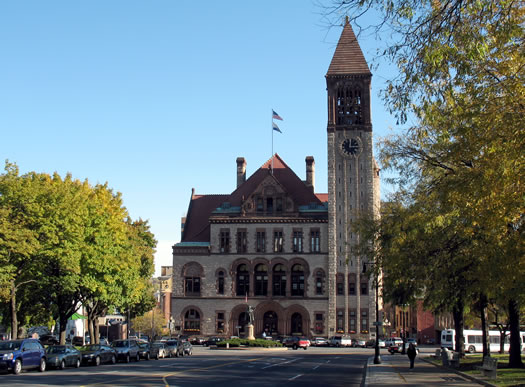 The City of Albany announced today that will marry as many as 10 same-sex couples on the first day same-sex marriage is legal in New York State -- this Sunday, July 24.
From the press release:
To mark the historic occasion of the effective date of New York's new State Marriage Equality Act, Mayor Jennings will perform the City's first same sex marriage at 12:01 AM on Sunday, July 24th. State Supreme Court Justice, Joseph Teresi, will also be present in City Hall to review applications seeking a waiver of the 24 hour waiting period, and, along with Mayor Jennings, to perform an additional number of same sex marriages.
There are two administrative issues complicating the first day of same-sex marriage in New York. The first, as mentioned above above, is the 24 hour waiting period. The second issue is that municipal offices are closed on Sundays.
But Albany has some plans to work around that. They're listed after the jump.
Again, from the city's press release:
The protocols are to be followed by same sex couples waiting to take part in this historic event are as follows:
+ On Thursday, July 21st, same sex couples may pick up marriage applications int he City Clerk's office (room 202, City Hall -- 434-5090) beginning at 9AM.
+ In addition to the completed application, all necessary documentation must be submitted in person beginning on Friday, July 22nd, at 9:00 AM in the City Clerk's Office. Upon submission, the Clerk's office will collect the $40 (cash only) fee required for license issuance.
+ The Clerk's office will review all submitted applications for accuracy and completeness. The first ten verified applications will be eligible to have a marriage ceremony performed beginning at 12:01AM on Sunday, July 24th. For these ten couples, judges will be available to consider waiving the 24-hour requirement, enabling the marriage ceremony to occur. Selected couples will be permitted to invite a reasonable number of family and friends to witness their historic commitment. The ceremonies will occur in the chambers of the Common Council (2nd floor, City Hall), and if necessary, in the adjoining City Court Chambers.
+ Same sex couples not included in the first ten will be eligible for a marriage ceremony on the next business day, Monday, July 25th beginning at 9:00 AM. Arrangements for the solemnization ceremony are to be made with the City Clerk's office in advance.
The full release, with info about what's required for a marriage license, is embedded below.
Hi there. Comments have been closed for this item. Still have something to say? Contact us.