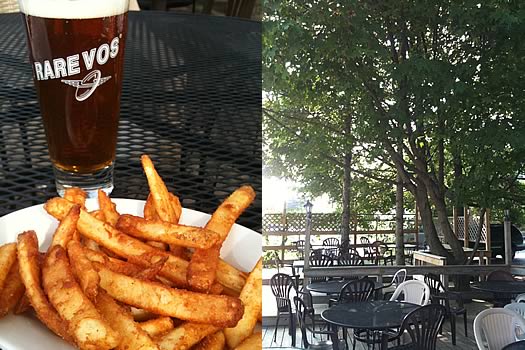 By Daniel B.
The clock is ticking.
Before you know it summer will be over, people will start gravitating back to the indoors, and all the undergraduates will return to the area's colleges and universities. That means over the next few weeks, some of the establishments that are generally reserved for our seasonal student population are a lot less, shall we say, boisterous.
When was the last time you checked out the deck at Sutter's Mill & Mining Co. in Albany?
It's huge. But it's not its size that's remarkable. It's the mature trees that are bursting through the surface of the deck to provide patrons with remarkable coverage of cool shade. And while I may choose to eat my meals elsewhere, little is better on a hot summer day than sitting in the shade with a cool beer and some crisp fries.
For that, Sutter's is a gold mine. Not only do they have Ommegang's Rare Vos on tap, served in a proper glass, but they also make Brew City Fries to go with it.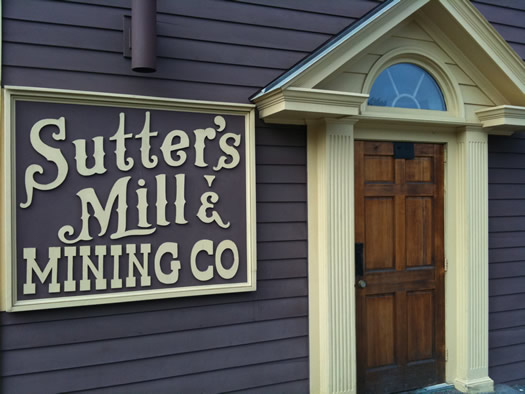 Sutter's is just one of many places you can get this incredible beer on draught. Here is an accurate description of the brew from the marketing folks at the nearby brewery:
You'll notice the beautiful coppery-amber color and the rich creamy head. Lift the glass to your mouth and enjoy the aroma of spicy orange blossoms. Taste, and the pleasant mellow flavor of caramel malt glides easily into a dry, hop finish... plus [it has] an elusive fruity-yeasty flavor which will have you tasting in circles.
Thanks to modern technology and a new local website, gotbeer.com, you can find all the restaurants and bars that are pouring Rare Vos in the area. Some might argue that the patio at Dinosaur Bar-B-Que overlooking the Hudson is a nicer setting to enjoy a beer on a beautiful summer day. And they would have a point.
But this locally made beer from Cooperstown is made in the Belgian style. I argue that Belgian-style beers were made to go with Belgian foods. Or perhaps Belgian style foods evolved to pair well with the local beer. Regardless of the chronology, this beer is a natural fit with hot crisp fries.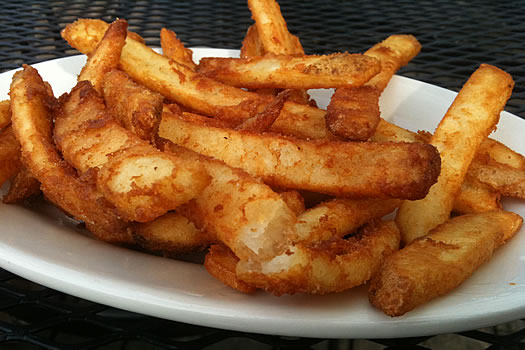 As it just so happens, fries are something Sutter's can do very well. In fact they have Brew City Fries that are advertised on the menu as "Beer battered dipped steak fries." But it's not a heavy batter as one might expect on an onion ring. Rather the batter produces a light crisp coating on the steak fry that makes it an improved condiment delivery device.
If you were pretending to be Belgian, that condiment would be mayonnaise.
Surely there are other great beer, food and venue pairings to be had around town. The new menu and beer garden at The City Beer Hall is promising. Additionally the picnic tables at Wolff's are an appropriate setting to wash down one or two of their wursts with a German beer.

But there will be time to get to these places later. The time for Sutter's is now, when those shade trees can be put to good use, and you can enjoy your journey of the mind to Belgium in peace and tranquility.
The hardest decision may be where to sit. After all, with the students gone, you may have the entire deck to yourself.
Now go.
Daniel B. is the proprietor of the Fussy Little Blog.
Find It
Sutter's
1200 Western Ave
Albany, NY 12203
Hi there. Comments have been closed for this item. Still have something to say? Contact us.