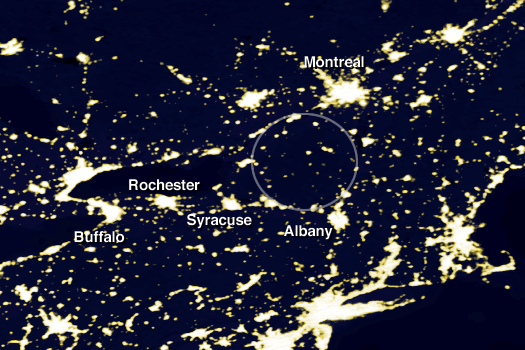 After Katie's question about places to stargaze, Jim commented today (emphasis added):
If you look at the night satellite photo of the North American continent, you see huge amounts of lights all along the East & West coasts. But - there is a big dark area, where there are few electric lights, which is great for stargazing - & that is the Adirondack Park. Head into the park, the more in the middle the better. We see great stars from Lake George on up. I remember a night we were on Little Tupper Lake (used to be in the Whitney estate) floating in canoes, seeing the Milky Way bright enough to be reflected in the water, listening to loons - & being stunned by the Perseids. Super dark sky, great show.
So we pulled the satellite imagery from NASA and annotated it. A small version is above. Much bigger versions -- of New York State and the United States -- are after the jump.
There's also another 2005 NASA map that highlights how low the human population density is in the Adirondacks.
Bonus bit: economists have been using this satellite imagery to study economic development.
Scroll all the way up to the large format images.
satellite image: Craig Mayhew and Robert Simmon, NASA GSFC
population density map: NASA image by Robert Simmon, based on data archived by the Socioeconomic Data and Applications Center
Hi there. Comments have been closed for this item. Still have something to say? Contact us.