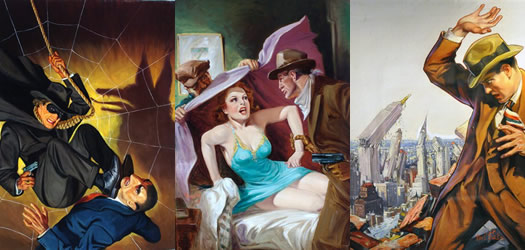 Now open at the Mandeville Gallery at Union College: "Pulp Fiction Paintings
Selections from the Robert Lesser Collection." From the blurbage:
This exhibition contains 37 paintings from the Robert Lesser Collection of Pulp Fiction Art and is on loan from the New Britain Museum of American Art. ... The paintings, roughly 30" x 40", were done as covers to the "pulp fiction" genre of the 1930's and 1940's. The subject matter includes adventure, mystery, science fiction, war, and westerns. Tarzan and the Shadow are two protagonists that are well known today. ...
The influence of pulp fiction is vast, seen in the development of later forms of detective and science fiction literature, super heroes, and film noir. The hyper-American imagery was later taken up by the Pop Artists of the Sixties.
After buying his first painting of the Shadow Lesser says, "I began to realize, my God, for these little ten-cent pulps, they had magnificent oil paintings for the cover art. I was amazed how great some of it was, how well trained these artists were."
Here are a few images from the exhibit. Comments from the curator. And a recent review of works from the collection.
"Pulp Fiction Paintings" is on display until September 25. There are a few events associated with the exhibit, including movie marathons and a talk, "Pulp Fiction and the Modern Reader," by Skidmore's Janet Casey (September 15).
The Mandeville Gallery is in the Nott Memorial at Union.
images from the Robert Lesser Collection, via the Mandeville Gallery
Hi there. Comments have been closed for this item. Still have something to say? Contact us.