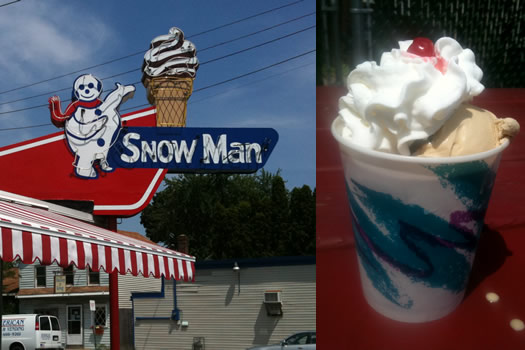 By Daniel B.
People around here go nuts over soft serve ice cream. They do. And in the spring, when the seasonal ice cream stands open, everyone flocks to their favorite place for what they insist is the creamiest soft serve in the region.
Soft serve has its place. There is a certain satisfaction of being handed an improbably tall cone, with a beautiful symmetrical swirl, brought to a point on top. And then there is the challenge and delight of attempting to finish the whole thing before it melts.
But soft serve is not what makes The Snowman in Lansingburgh special, although that's not to say it too doesn't have its fans. The proprietor will readily tell you that it just comes from a mix, like everyone else's. Still as I have learned, this fact does not mean all soft serve tastes the same.
What makes The Snowman special is their homemade hard ice cream. And what makes The Snowman very special is that there you can get a Boston Shake, which allows you to enjoy it two ways.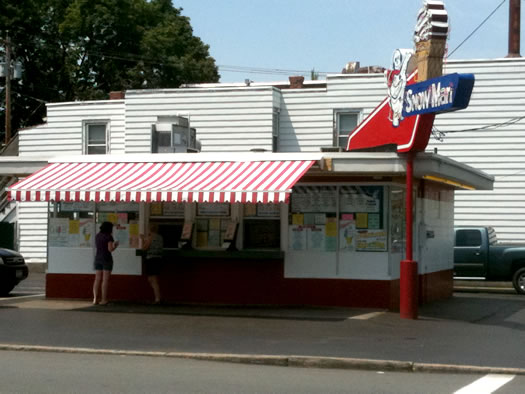 Perhaps native Albanians who have soft serve flowing in their blood see nothing wrong with using the stuff for milkshakes. But I am a bit of a purist. The modern milkshake as we outside of Boston and Providence understand it has been around for almost a century, corresponding with the invention of the electric blender, and it calls for hard ice cream.
In Boston, Providence and other cities scattered throughout New England there have been some hold-outs in adopting the modern milkshake. These old school denizens tow the line that predates the blender and insist that a milkshake is nothing more than milk flavored with syrup. If you want a milkshake with ice cream in Providence, you'll order a cabinet. In Boston, it's a frappe.
But The Snowman's Boston Shake has nothing to do with Boston. In fact those in eastern Massachusetts I spoke to about this concoction were completely perplexed. So what is it? Well, there is a sign predominantly displayed above the ordering window that describes it as:
Any flavor milkshake with a scoop of our homemade ice cream, some tasty hot fudge, delicious whipped cream, and a cherry to top it off!
For those who need it spelled out for them, that would be a milkshake crowned with a hot fudge sundae. Oh, yes.
The regular size cannot be contained within its sixteen ounce cup and will set you back $3.85 for a silly amount of pleasure. It's a treat you get to enjoy with both a straw and a spoon. Truly, it is the best of both worlds.
Typical sundaes are large and unwieldy beasts, about the size of a small child's head. They are delicious, but they are a bit much. Plus in the hot summer sun, they melt before they can be finished.
Milkshakes are a great way to both cool down and fortify your body with both calcium and protein. Being able to suck down homemade ice cream through a straw is one of life's great joys. But you can't sink your teeth into a milkshake.
Putting the two of these things together is brilliant. Believe it or not, the milkshake actually insulates the ice cream, so your sundae is protected from summer's searing heat. And even if some of the ice cream melts, it simply adds to the flavor of the shake. Plus it opens up a realm of possibilities for flavor combinations.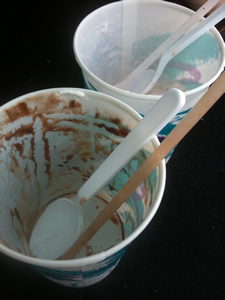 On my last visit, I enjoyed a strawberry milkshake topped with a vanilla hot fudge sundae. Then I got a little bit fancier by adding malt powder to a chocolate milkshake for an additional dime, and choosing a coffee hot fudge sundae to go on top.
Yes, that's two shakes. It's really a good thing I can't get these all year because I'm already dreaming about my next one. Will it be a coffee shake with a scoop of coffee mocha chip or a vanilla shake with a scoop of butter pecan?
The Snowman isn't fancy, and it isn't gourmet. There isn't a lot of shade or cover, and there is no place for kids to run around. If you want to sit down, they have one very long, red communal picnic table in the parking lot. But the people who know keep coming back for their homemade hard ice cream.
Not everyone gets the Boston Shake, but they should.
Daniel B. is the proprietor of the Fussy Little Blog.
Find It
The Snowman
531 5th Ave
Troy, NY 12182
Say Something!
We'd really like you to take part in the conversation here at All Over Albany. But we do have a few rules here. Don't worry, they're easy. The first: be kind. The second: treat everyone else with the same respect you'd like to see in return. Cool? Great, post away. Comments are moderated so it might take a little while for your comment to show up. Thanks for being patient.