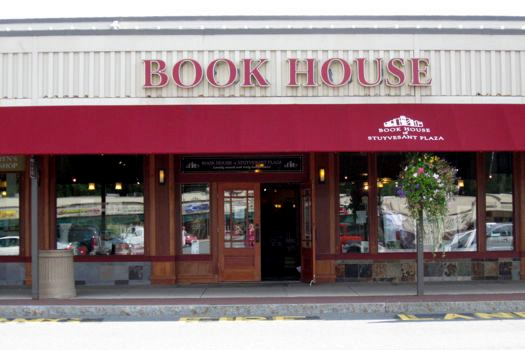 When is the last time you bought a book at a bookstore?
Not a virtual bookstore -- an actual, brick and mortar, physical space where you browse and read and walk around and maybe even talk with clerks or other readers bookstore? A place like Market Block, or The Book House --- or heck, even Barnes & Noble.
With Borders shutting down, the ubiquity of Amazon and the rise of the e-reader, we've been curious about -- OK, baffled by-- how independent bookstores manage to keep going.
Susan Novotny, owner of The Book House in Stuyvesant Plaza and Market Block Books in Troy gets asked about this all the time.
And some of her answers kind of surprised us.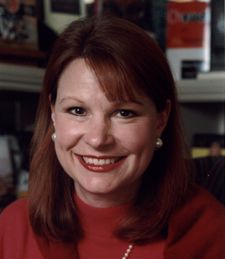 So how do you keep going when the book business has changed so much?
Well, we don't make any money and we work very hard.
People always want to know how we're doing it -- just hard work and a dedicated staff who hasn't gotten a raise in three years and a community that supports a locally-owned independent business.
My worry is that with Borders having gone down, a lot of the people who patronized them over the last 20 years will migrate to Amazon or Barns & Noble because they've trained themselves over the last 20 years to never, ever buy a book at face value -- only to buy it if it's deeply discounted or nearly free.
Yes, but with the economy being what it is, how do you tell people who want to read a book not to look for the best value or the deepest discount?
I don't.
Really?
I can not fault people for buying books where they perceive they're getting a better value, and it's not in my constitution to guilt people because they're buying from Amazon and not me. But I think it's a perceived value. We give back to this community in ways that Amazon doesn't and if we were to leave because we can't pay bills or rent not only do we lose, but the community loses. They lose the taxes we pay as a business, they lose 22 jobs and they lose what we donate to the community. We've given millions of dollars back to this community in the past 21 years in the form of charitable contributions and support services, and that's something that will never see from Amazon.
And I mean there's a ripple effect from Amazon taking over not only the book business, but just about any other business. There's a dress shop that has started charging for trying on a dress because some people are taking a picture of the dress and going online to buy it from Bluefly or whoever.
When you have that erosion of any brick and mortar store, you're talking about a ghost town. I'd imagine there are a lot of developers out there who are very concerned about the erosion of brick and mortar stores. If people feel like they are saving money in this economic climate, I can't tell them not to, but these are the things we should be thinking about.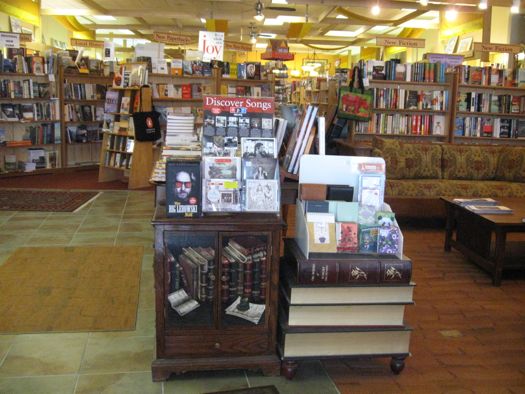 How are you doing?
We're hanging on by our fingernails. I project a year into the future to see how the public will respond to events. This holiday season Amazon is going to make a big push, reducing Kindle prices -- if not giving them away. I'm anticipating this holiday season will be tough on us. Hopefully it will be the last season it happens.
Do you see a time when the independent bookstore -- or any brick and mortar bookstore -- might not exist anymore?
Well, there were about 5,000 members of the FABA a few years ago and now we're down to about 1,400 members, so yes.
So far between Market block and Book House there's a very dedicated group of people who are continuing to support us. And I just hope with the strip mining of our culture that people don't continue to say that ebooks are the future of reading because we are still 100 percent committed to the real book and the magic of the real book.
But aren't you reading the same story from your iPad that you're reading from a book? What do you mean by the magic of the real book?
Have you ever read an ebook? Some people adapt to it, but it's a frigid, monotonous experience. I have a feeling there are a lot of people who are downloading ebooks and not finishing them. You lose the tactile experience, the smell, the crack of it -- and all this sensory experience.
But I'm sure there will be people who will read this and say that if they have to hear one more person say, "I love the feel of the cover and crack of the spine I'm going to throw up." I actually had someone say that to me because they love their Kindle so much.
A bookseller that I know is an amateur magician. He used to do tricks for his kids and it always ended with them saying, "Dad show us how you did it!" And he'd say, "I can't show you because then it wont be magic anymore." It's sort of how I feel about bookstores and real books. That the magic is still here. If you want to learn how the trick is done, God bless you -- go download it on your Kindle.
What do we lose if we lose the book store?
Well, we can't carry every book in stock, but we do take a curatorial interest. Most of the books we sell are vetted by our staff, so when a customer comes in here they can be sure they are going to find a good book to read. Hand-selling is a hallmark of most indie booksellers. We read a lot, so when a customer comes in we can basically diagnose them and say, "What kind of book do you want to walk out of here with?" And then we leave our cards next to the books we like, so people can say, "I love Julia's selections -- she likes this book, so I'm going to try it."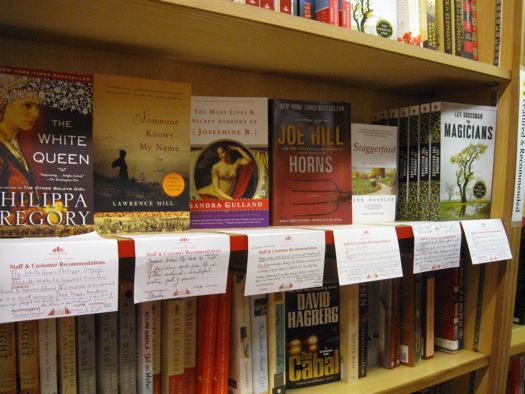 It's also a place where people come to talk about books. Excited customers come to the back room and corner us and talk with us and deconstruct the latest book they've read.
When people walk in here they feel like they're part of the community and hopefully they're coming back because they're having a pleasant interaction with my very well-read staff -- but also with the general ambiance and warmth of the store. It's one of those third places where people can feel comfortable and like they're part of the community at large.

Workshops and support groups and reading groups and poetry groups and others meet here. But we can't survive as just a third space, either -- people have got to walk in the door and actually buy a book.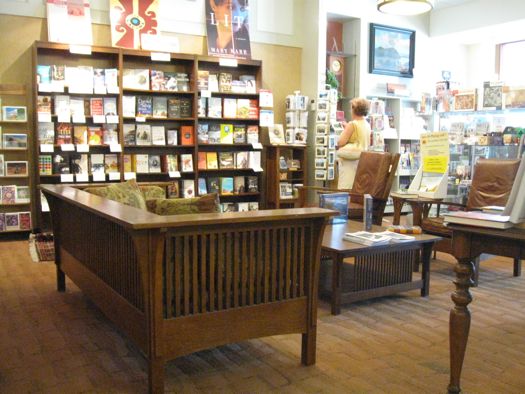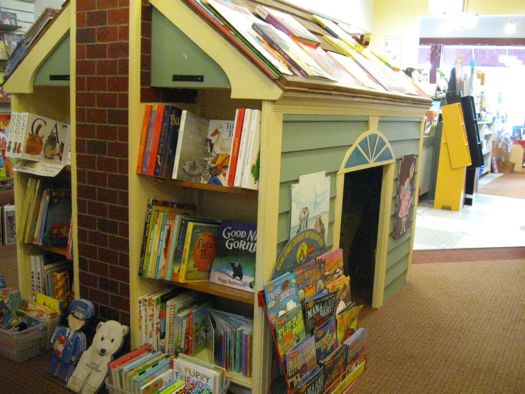 What kinds of changes have you had to make? What are you doing to stay afloat?
Booksellers have banded together through the ABA (American Booksellers Association) and we now sell ebooks on our websites and they're priced exactly the same as they are on Amazon or Barnes & Noble. So you can download a book from bhny.com at midnight or whenever you want and it's the same price as Amazon. The only warning I would give is that if you have a Kindle you can't do that because your tied into a proprietary arrangement with Amazon.
We've also started a small publishing company -- Staff Picks Press -- as an entrepreneurial effort. I'm looking for ways to diversify, to bring in another income stream to buck up the erosion. We published Come Back Love and peddled it to New York publishers and it went to auction and sold to Simon and Shuster. It will be released in March. We're working on quite a few others, I have several boxes full of those. We could have more success, or it could be a bust and I could lose my shirt.
Do you feel sometimes like tilting at windmills?
No, because when I wake up in the morning I still love selling books for a living. It's as much of a vocation as it is an avocation. And I'm blessed with a staff that has the same philosophy. We're not tilting at windmills, we're just dealing with a public that has chosen to abandon the book -- that's completely distracted by their gadgets, music, DVDs and games.
That's a cultural windmill I guess, but we're all up against that.
This interview was edited.
Find It
The Book House
Stuyvesant Plaza
Albany, NY 12203
Say Something!
We'd really like you to take part in the conversation here at All Over Albany. But we do have a few rules here. Don't worry, they're easy. The first: be kind. The second: treat everyone else with the same respect you'd like to see in return. Cool? Great, post away. Comments are moderated so it might take a little while for your comment to show up. Thanks for being patient.