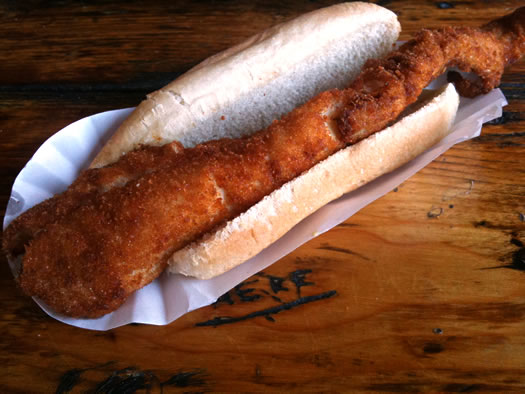 By Daniel B.
Fish fry is different from fried fish. If you grew up in the Capital Region, you would already know this. But there are countless transplants who come here from far and wide. Many of these people gaze upon our regional specialty with surprise and confusion.
Fried fish is simply a battered and fried filet of fish. Our fish fry is a foot-long thin piece of fried breaded fish, unceremoniously sitting in a plain white hotdog bun.
While most of the world is fish fry poor, we are lucky to have several restaurants around the area dedicated to this dish. Each is special in its own way and each has its dedicated followers. In many ways they remind me of the clam shacks around New England. They are casual places to enjoy tasty fried seafood on a warm summer's day.
But as opposed to the New England clam shacks, Capital Region fish fry is mostly a four-season affair. That is, except at Gene's in East Greenbush Rensselaer, which is only open in the spring and summer. And if you want a last taste of summer, you've got precious little time to get there.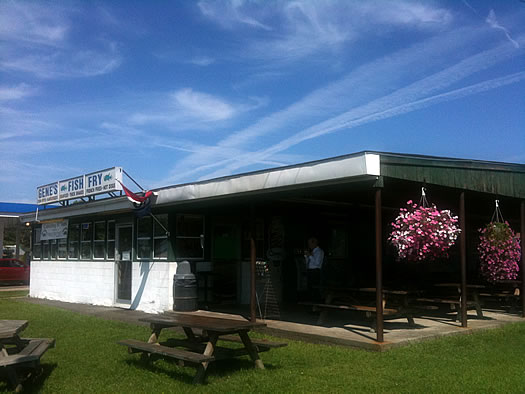 The most obvious thing that sets Gene's apart from the other beloved fish fry establishments in the region is its physical space.
Eleven time-worn wood picnic tables are fully shaded on a large concrete patio that is open on three sides. For those sun worshipers, there are a few tables on the grass as well. However if you sit out in the sun, you will miss the fish. Even though none of our dedicated fish fry is served adjacent to water, all of these restaurants strive for some kind of nautical theme.
At Gene's this is done through a colorful under water mural complete with sharks, stingrays, schools of fish, sunken ships, and booty. Naturally the booty is hiding behind the ATM, which is a good reminder to bring cash and save yourself those pesky fees.
Ordering is done through a window inside the adjoining cinderblock and glass structure. There are no surprises on the menu board. At the very top is their haddock fish fry, which weighs in at a relatively hefty $4.75.
But it's worth it.
Especially because it serves as a great vehicle for the least obvious thing that sets Gene's apart from your local fish fry haunt: their condiments.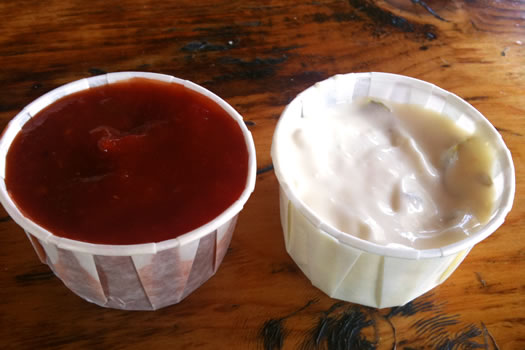 As a primer to those unfamiliar with the form, there are three fish fry sauces: tartar, cocktail and chili. Across the street from Gene's at Off-Shore Pier they have pretty standard versions of these sauces. Their tartar is a sweet combination of mayonnaise and relish, their cocktail is hot with horseradish, and their chili is sweet and ketchupy.
Gene's are different.
Their tartar is smoother, a bit thinner and pleasantly tart. For those who want more chunks of relish, there is additional relish on the side, to add it if you wish. But then you would be missing out on the experience of just how well it coats and clings to the nooks and crannies on a fish fry.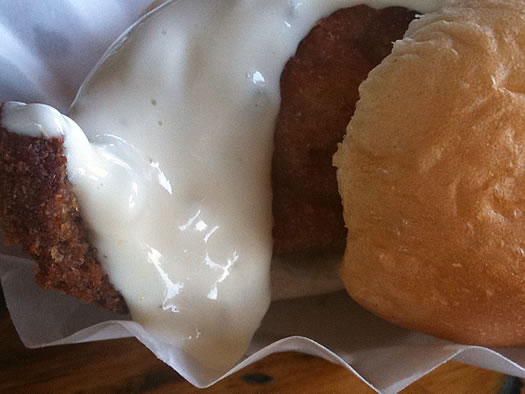 Some people miss the horseradish in Gene's cocktail sauce. Actually, some people might miss the cocktail sauce entirely, since it wasn't labeled in the condiment bin on my last two visits, and it's just as red as the chili sauce. But the cocktail sauce here is made piquant with red pepper, which I think is a bit more delicate and works better with fried fish.
The fish, mind you, is fantastic. It's moist and flaky with a great crust. No, the crust isn't greaseless. It's actually a bit greasier than most. And no, it's not quite as crunchy as the cornmeal crust at Off Shore Pier across the way. It also could benefit from a bit of salt that is also available at the condiment station. But with unique takes on the classic sauces, well cooked fish, and a solid crust, Gene's is my clear favorite fish fry in the region.
There will be plenty of time to enjoy the brilliant crust at Off Shore Pier come fall. Which, by the way, happens to be right around the corner.
I was told by a girl at the window of Gene's that the last day of the season will be September 2. And that means no more of their delicious sauces and juicy fish until likely late April. So get out there soon and see what you'll be missing, as you enjoy the remaining few days of summer.
Daniel B. is the proprietor of the Fussy Little Blog.
Elsewhwere: This year's Tour de Fish Fry at the Fussy Little Blog
Earlier on AOA: Clam strips at Bob & Ron's
Find It
Gene's
300 Troy Rd
Rensselaer, NY 12144
Say Something!
We'd really like you to take part in the conversation here at All Over Albany. But we do have a few rules here. Don't worry, they're easy. The first: be kind. The second: treat everyone else with the same respect you'd like to see in return. Cool? Great, post away. Comments are moderated so it might take a little while for your comment to show up. Thanks for being patient.