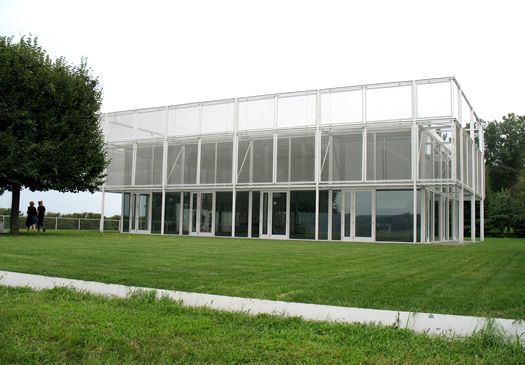 Moyra Mulholland doesn't throw stones.
Mostly, that's because she's a nice person -- but there's also this: she lives in a glass house.
Moyra and her family live in the Taghkanic House, a more than a little awesome, award-winning, 8,800 square-foot glass and steel structure built into a hillside near Hudson.
On September 4, Moyra -- a makeup artist who's worked with stars such as Nicole Kidman and Ashley Judd -- will open part of her remarkable home for a garden party to benefit The Aids Council of Northeastern New York.
Last week she invited us in for a look.
(Many photos after the jump.)
Scroll up to see a collection of large-format photos of the house.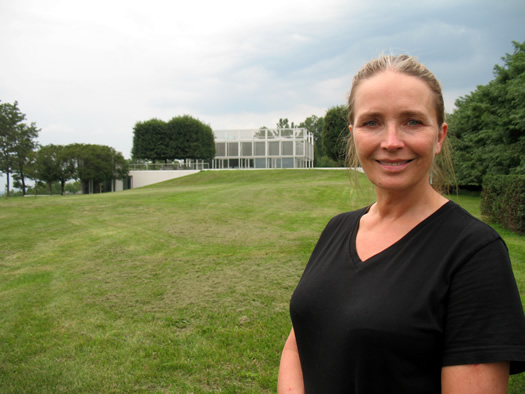 Moyra
The idea for Taghkanic House came, in large part, from architect Thomas Phifer. Mulholland says they didn't set out to make a statement with a house. In fact, they started out looking for an old house, but never really found the right fit. "Basically we just wanted a fun country house that could accommodate our entire family for get-togethers, and that embraced the nature."
When Phifer originally proposed the idea of a glass house, it didn't go over well -- in part because of Mulholland's fear of thunderstorms. "I love glass, but I wanted to be protected in some way, and so, the whole subterranean thing." Most of the house is built into a hillside under a sod roof. But the showpiece is a 1,700 square foot glass above-ground room with 15-foot ceilings. The architect refers to it as the "celebratory space."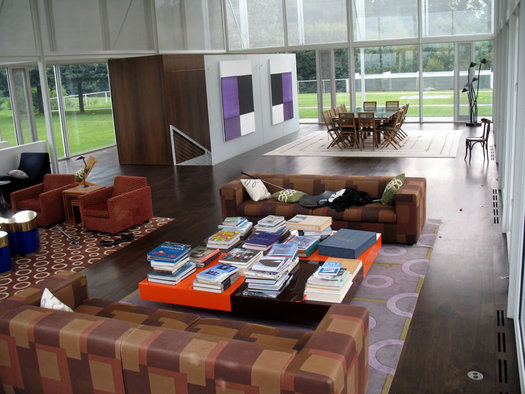 "Whenever there is a storm, my little guy especially, loves to come up here and watch the storms. So I've overcome my fear a bit as long as I'm inside."
Mullholland grew up in South Africa, and has vivid memories of a family friend who had a home that was partly underground. "And so my mom always talked about an underground house, you know. I don't know why, it just kind of somehow stuck with me and without it ever even being voiced to the architect it somehow came out."
The rooms downstairs are built around the outside of the house, and have large glass exterior walls to keep things bright. Skylights, built into the sod roof, help brighten up the corridors.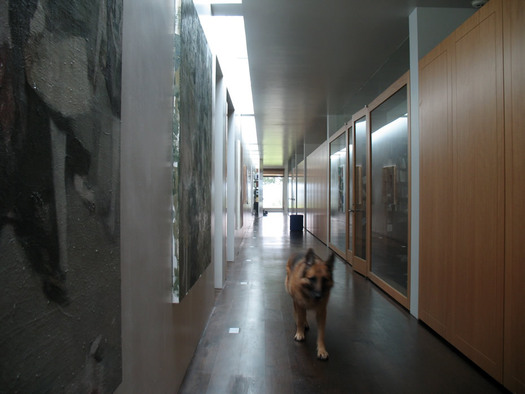 "People say oh, it's a big modern house, but I think of this house as almost like a warehouse type feel. It is big and modern, but it is not precious at all. My boys have grown up here -- they've roller skated in it, they still ride their skateboards down the corridors, they learned to ride their bikes inside -- its lived in."
The original plan for the house was much smaller. Then it grew. And grew. And grew a little more. Taghanick House has six bedrooms, six full baths, three half-baths, a kitchen, breakfast room, wine cellar, refrigerated cheese room, study, media room, service area, indoor and outdoor pool, a tennis court and bocce court. But if you ask Moyra what her favorite part is, she'll tell you it's the land. "You really live with nature here, loads of birds and animals. The seasons do not pass unnoticed. The mountains become pink in the fall...I love waking at sunrise to see them during this time. Electrical storms can be seen approaching for miles. One feels like in a snow globe during a snowfall."
The gardens are minimalist, designed to look like a meadow with just a hint of an English Country garden, suggested by the trees and a little well placed holly. Moyra's passion for nature was incorporated in the original idea for the house. "I've always loved nature. I love the outdoors and I love birds." She's started building housing for endangered bluebirds, "We have like, bird condo city." She's also seen deer, coyote and all kinds of other wildlife from the house.
"I've not seen bear, although I've heard that they are here. I have some beehives over on the other hill and the guy who looks after them said we've got to put a fence around the beehives and I said, 'Why would we have to put a fence around the beehives?' And he said, 'To keep the bear out,' and I was like ... 'THE BEAR?!'"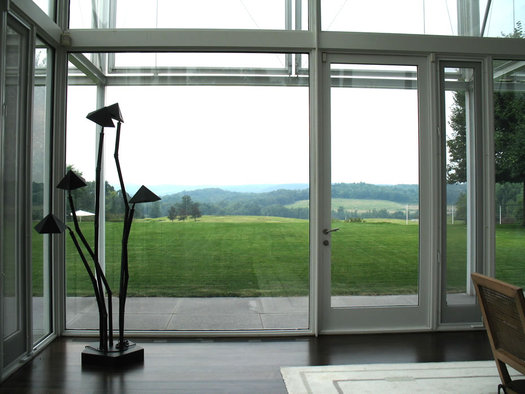 Moyra says living in a space where she can see out and anyone -- or anything -- nearby can see in doesn't really freak her out. "I don't know, maybe I have a false sense of security or something. The pooches sleep with me and I have no problem staying here on my own. I don't feel afraid." Of course, some of the pooches are German Shephards and the house, situated on a 400-acre plot, is pretty far off the road. In fact, to get to it, you have to drive through a cow pasture. No, not by a cow pasture -- through a cow pasture.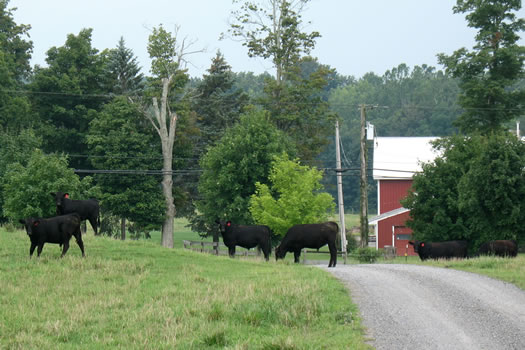 The neighbors.
So what are the challenges of living in a sleek, modernist home? "Keeping it clean. When you live in a place with such clean lines, things can start to look cluttered pretty quickly. In an older house, clutter can sometimes blend in. Not here." And about cleaning the windows: "The ones upstairs stay remarkably clean. They only need to be done once a year. Downstairs are done a few times a year, but we bring in a company from Albany and they get through it in a day."
Mulholland is crazy about Columbia County. When they were looking for a place to move, she says, they thought about The Hamptons for a while -- but it just didn't feel right. "And you spent so much time getting into or out of the city -- or thinking about getting into or out of the city." Although the house is getting a little big for her family, and she's considering selling, she plans to stay in Columbia County. She loves the landscape, the proximity to the City, and the inspirational people she's met who are engaged in their community. "But what I really love is that it feels real, warts and all. It feels to me that one is able to create their own dream here and not simply live in someone else's dream."
Her next big dream is to start her own cosmetic company that manufactures and sells organic products. She'd like to keep that in Columbia County as well.
You can meet Moyra and check out this amazing house for yourself on September 4 at The Aids Council's Garden Party.
Say Something!
We'd really like you to take part in the conversation here at All Over Albany. But we do have a few rules here. Don't worry, they're easy. The first: be kind. The second: treat everyone else with the same respect you'd like to see in return. Cool? Great, post away. Comments are moderated so it might take a little while for your comment to show up. Thanks for being patient.