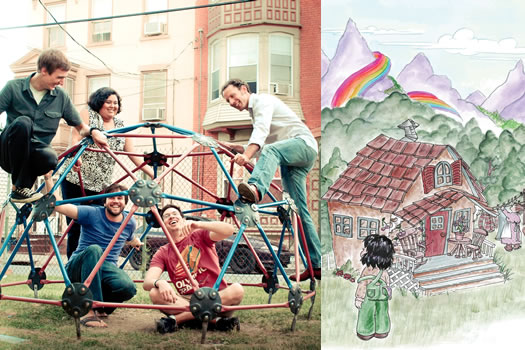 By Danielle Furfaro
When I was a kid, I loved a good album/book combination. Even then, I was a sucker for multimedia experiences. There's something special about hearing a voice come out of a scratchy record while also reading about it in a book. And then turning the page when you hear the beep so that you can keep following along. It's like a little, interactive DIY movie.
Sea of Trees, an experimental rock band based in Albany, has just made its own album/children's book called Fletcher and the Hendersons. The songs were written by the band, singer Dylan Palazzo wrote the book, and his mother -- Nancy Palazzo -- illustrated it.
The book chronicles the adventures of a young Florence, who loses her father to the mountains and then enlists the help of a ghost to find her way through life. The beautifully drawn book has both narrative prose, which is in third-person, as well as the songs' lyrics, which tell Florence's story first-hand. It's a cool concept, and, in keeping with proper children's book/album fashion, comes with instructions on when to turn the page.
And it's definitely not just for kids. There is some strange confluence of pop culture references here, but this is probably not the story of what would happen if you mixed Harry and the Hendersons with Florence Henderson.
I talked with Dylan about the inspiration for the album -- recorded during the 2010 RPM Challenge -- and Pink Floyd and concept albums.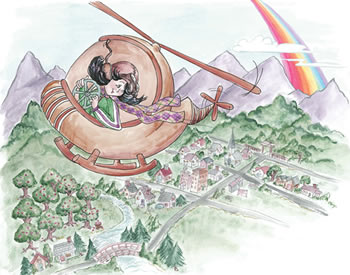 How did the idea for this Fletcher and the Hendersons evolve? Did you know when you started the RPM challenge that you would be doing a concept, or did it come about over time?
The idea for the project evolved over some time, but it started with the music. My family was given an old Lowrey organ. I wrote a handful of tunes using the organ beats, bass pedals, and an acoustic guitar. The songs were so similar in sound and feeling that it made sense for them to become components of a larger project. Going into the recording process we knew we were going to do a concept album and we had most of the story's plot and characters figured out. Even with all that planned out, we still had a few songs and lyrics that had to be written on the spot during the recording process that month.
Where did you get your inspiration for Fletcher and the Hendersons? Are there other combination album/books that you like?
The inspiration for this project came from my love for children's books and from the quirkiness of the songs themselves. Writing children stories is something I always wanted to do. Once things were moving, the story really began to write itself. It was fun to think about a lengthy process overall, but enjoyable every step of the way.
By what musicians is the band most influenced?
When I was younger and started writing music seriously, I was listening to a lot of Pink Floyd. They were definitely awesome when it came to recording conceptual albums. That idea that an album can become more than just a collection of songs and actually take on a bigger purpose and a life of its own is something I'm totally into exploring.
Because Fletcher and the Hendersons was a project we were doing on the side with no real urgency to complete, we had the time to explore how far we could take the concept part of it. In the end, we were pleased with how the listening-to/viewing of this project, unlike a lot of contemporary music, requires an attention span and a small allotment of time.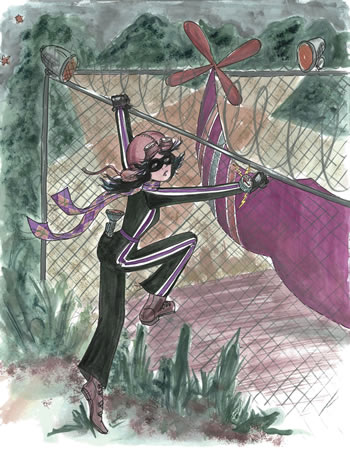 Is this something you would do again? I notice that the books says "Part One." What's the plan for part two?
I think we'd do this again for sure. It was named 'part one' intentionally, and I've already started working on some song and story ideas for the sequel. At this point though, we don't have any definite plans to record or anything. I think we'll need some time for part one to go away before we take part two too seriously.
What is the band working on now?
For right now, Sea of Trees is in a time of transition. It has been super hard and super exciting at the same time. Our friend and guitar player, Justin Engineri, left the band recently. We've added our newest member, drummer Jeff Schneider. Ian White has taken over guitar duties and we've been starting from scratch, working on new songs with a new lineup. While it's been a lot of work, we're back on track now and looking forward to playing out again.
Where to see it and hear it
Sea of Trees will play the album acoustically at a release party during Troy Night Out this Friday at Design It Together, 286 River Street, Troy. Todd is Each New Moment will also play.
The book/album will be for sale on the band's website or at Market Block Books, The Book House of Stuyvesant Plaza, Last Vestige Music Shop, and The River Street Beat Shop.
Say Something!
We'd really like you to take part in the conversation here at All Over Albany. But we do have a few rules here. Don't worry, they're easy. The first: be kind. The second: treat everyone else with the same respect you'd like to see in return. Cool? Great, post away. Comments are moderated so it might take a little while for your comment to show up. Thanks for being patient.