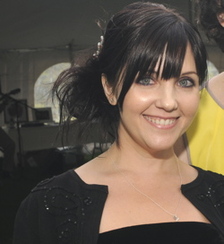 WEXT's My Exit is back. Every Monday night local listeners get to come into the station and program an hour of music. We thought it'd be fun to find out a little bit about these people and why they picked the songs on their play list.
Here's this week's My Exit DJ...
Who?
Mary Spinelli, Executive Director of the Lark Street BID. Originally from Miami, Florida. A photographer, mixed media artist, and total film geek! I recently broke my toe cliff jumping off the Canajoharie Falls but am looking forward to a full recovery before snowboarding season starts.
Taste in music
My taste in music is all over the map. I love indie, pop, electronica, goth, post-punk, old soul music, rockabilly. Pretty much anything. Lately I've been listening to a lot of Lykke Li, Cults, Fitz & the Tantrums, Goldfrapp, and Air. My long-enduring favorites are the Magnetic Fields (or anything by Stephen Merritt) and Mike Patton (of Faith No More and Mr. Bungle) who sings vocals on the Lovage song "Pit Stop, Take me Home." These two artists would be my take-alongs if I was stuck on a deserted island.
Five songs from Mary's My Exit show:
Wait for Me by Motopony
I picked this song for two reasons. 1. It's a fantastic song and I love his voice. 2. Motopony will be playing at LarkFEST and I think they will be one of the bands that people will be as thrilled to discover as I was.
Little Bit by Lykke Li
So... I have a girl crush on Lykke Li and this is one of my favorite songs of hers. It's so yummy.
Saddest Story Ever Told by The Magnetic Fields
I could probably make an entire MY EXIT show just with the music of Stephen Merritt. He is amazing. His music is amazing.
Don't Play No Game That I Can't Win by the Beastie Boys featuring Santigold
It's the Beastie Boys and Santigold- what's not to like?

The March of the Coyote by We Are Jeneric
This is my favorite song by one of my favorite local bands. They will be playing LarkFEST also on September 17th.
You can hear Mary's My Exit show tonight at 8 on 97.7 or at exit977.org.
Here's how to schedule your own My Exit show on WEXT.