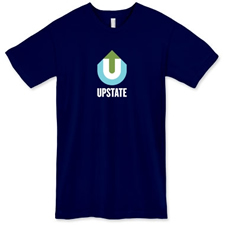 Casey emails:
A group of concerned upstaters (many of them Capitol denizens) have designed a T-shirt to promote upstate solidarity in the wake of the flooding. Check it out.
Any profits will go to charities providing disaster assistance in the affected regions.
We've all been posting "I am an Upstate American" on our Facebook pages today; on Wednesdsay, we'll change our status to the link above.
The t-shirts are $25 and up. We like the ones with the up arrow design (image right).
Update: Mr. Dave on his pride in being an Upstate American.
Hi there. Comments have been closed for this item. Still have something to say? Contact us.