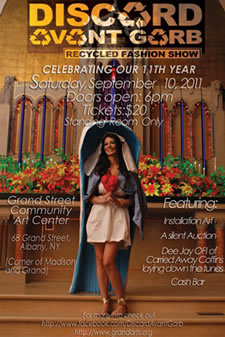 This Saturday: the Discard Avant Garb Recycled Fashion show at the Grand Street Community Art Center.
There have been a bunch of these shows over the last decade or so -- both in this series and part of others. They're a lot of fun. They involve designers making outfits from objects and materials that would otherwise be thrown away (gives new meaning to a trashy look). Here are photos from the Discard Avant Garb's 2009 show.
The show this weekend includes designers Katie Pray, Amy Orr, and Mischel Nivens (as well as many others). It's a benefit for the Grand Street Arts, Albany Center Galleries, and the Chris Ryan Albany High School Art Scholarship.
Doors are at 6 pm. Tickets are $20.
Earlier on AOA:
+ From Trash to trashion
+ Anatomy of a trashion piece
+ Trashion 2010 photos
+ Project Larkway winner Joleen Button