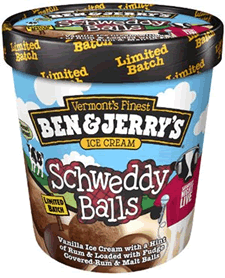 Updated September 13 at 7:30 am
Ben & Jerry's has a new flavor: Schweddy Balls. You've probably heard. It's been all over the interwebs. It's inspired (if that's the word) by the famous SNL in which candy maker Pete Schweddy (played by Alec Baldwin) brings his "Schweddy Balls" to an NPR food show (it's embedded after the jump).
Anyway, Fox44 in Burlington is reporting that "all" Price Chopper locations won't be carrying the ice cream because of the name. We put in a request for comment with Price Chopper Thursday afternoon about the story, but haven't heard back (we'll update if we do), so we can't confirm. They've admittedly had more important things to focus on this week. (We also didn't hear back from Hannaford -- maybe no one wants to touch the Schweddy Balls issue. Hannaford got back to us -- their response after the jump.)
Said a Ben & Jerry's spokesman to Time about the name: "The name is irreverent. But we've always been about having some irreverence and having some fun ... We're not trying to offend people. Our fans get the humor."
So what's in Schweddy Balls? From Ben & Jerry's site: "vanilla ice cream with a hint of rum and is loaded with fudge covered rum and milk chocolate malt balls." Reviews of the flavor have been... mixed. [NY Mag Grub Street]
The Ben & Jerry's scoop shop on Lark Street in Albany says the flavor is currently available there (it was sold out as of the evening of September 12). The RPI scoop shop says it might have the flavor this weekend. And the Saratoga shop says maybe by the end of next week.
Here's the response from Hannaford's Michael Norton to the Schweddy or no-Schweddy question, :
We routinely do not get the limited availability, seasonal items from Ben and Jerry's and this one is in that category. So, we did not make a decision (carry or not carry) on this specific item. Our routine practice is to stock the established flavors and, as a group, not to stock limited availability, seasonal items.
____
[via @NNatario via @celly_shortstop]
Hi there. Comments have been closed for this item. Still have something to say? Contact us.