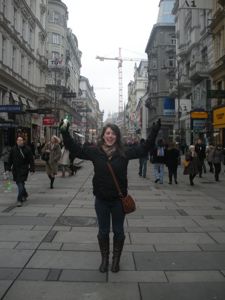 It's Monday, and that means tonight is My Exit night on WEXT. You'll need to catch the show online at exit977.org or through the HD2 stream of WMHT-FM. WEXT lost its antenna and power to its transmitter due to Irene. Update: They're back on the air!
This week, it's My Exit: The intern edition. Three WEXT interns take their turn and the mic.
Here's one of the folks you'll hear from.
Who?
I'm Jaimie. I'm 18 and a freshman at Ithaca College. I'm studying Television/Radio- more specifically Broadcast Journalism. I LOVE music. I was in all the musicals at my high school- Albany High and I absolutely loved my time there. I've been in choir for 6 years and singing is a definite a passion of mine. I hope to join Ithaca's co-ed acapella group, VoiceStream, in December.
How would you describe your taste in music?
If there is evident passion and talent in an artist's work, I will listen. I love show tunes, I love classical guitar, I love Pavarotti, jam bands -- the list goes on and on.
A few songs from Jaimie's set:

Bartender- Dave Matthews and Tim Reynolds
Dave is one of my favorites. You either love him or you hate him and I love him.
This version is live at Radio City Music Hall and there is just something magical
about it.
Being Alive- Bernadette Peters
I love musicals and am a huge Sondheim fan. No one can sing Sondheim like
Bernadette Peters- you'll see what I mean.
The Woman and the Bell- The Punch Brothers
My new favorite band and one of their best songs. I love finding new, good, real
music. So refreshing.
Somewhere Over the Rainbow - Judy Garland
A timeless classic that holds special meaning for my father and I. One of my all-
time favorite songs.
One Sweet Love- Sara Bareilles
I sang this tune at my first open mic night. I will never forget the words. Ever. Sara
Bareilles is a fantastic artist.
You can hear Mary's My Exit show tonight at 8 on 97.7 or at exit977.org.
Here's how to schedule your own My Exit show on WEXT.
Hi there. Comments have been closed for this item. Still have something to say? Contact us.