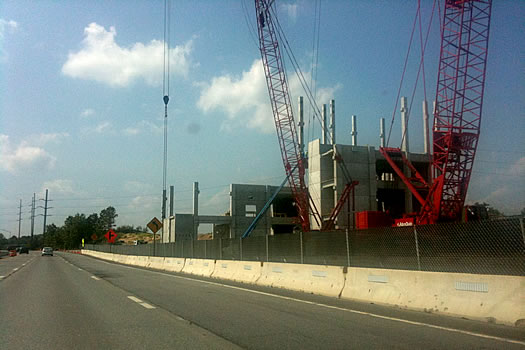 You've probably noticed there's a lot going on at the super busy intersection of Fuller Road and Washington Ave in Albany. What with the hill that's now gone, and the large structure rising in its place, it's hard to miss -- whether you're driving along Washington, Fuller or the stretch of I-90 along there.
Here's what's up...
The structure
That building going up where the hill and trees used to be on the northwest corner of Washington and Fuller is part of UAlbany's zillion-dollar College of Nanoscale Science and Engineering.
Nano czar Alain Kaloyeros announced this week that the building will house green energy research, including that $400something million solar panel research consortium. Kaloyeros is aiming to follow the plan used to make CNSE a player in the computer chip industry -- putting public money together with private funding, with researchers and industry groups working alongside each other. The solar panel research center will involve a lot of names in the solar energy field, and there's been speculation it could make Albany one of the bright spots for the growing solar energy industry. [TU] [CNSE] [Biz Review] [TechCrunch]
For whatever reason, UAlbany had been kind of coy about this building -- but it's not like people weren't going to notice (and there are two more buildings planned). [TU Places and Spaces]
The re-alignment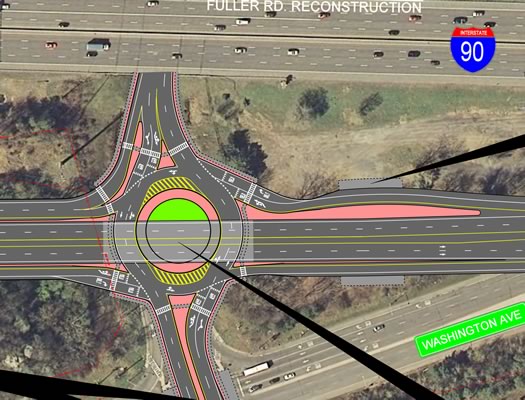 But, wait, there's more. Albany County has been planning to move (yep, literally change the location of) the intersection of Washington and Fuller. This project isn't directly connected to UAlbany, but it will create more room for the Nano Empire.
The planners' preferred design for the project involves moving the intersection north (that is, toward I-90) and installing a roundabout, with an overpass for traffic traveling along on Washington. (That's in addition to a roundabout planned for Fuller at the I-90 interchange just a bit farther north.) The aim is to reduce congestion at the intersection.

The project is still in the design process. Construction is slated to start in spring 2012 and be finished by summer 2013.
There's a large view of the preferred plan at the top of this page -- scroll all the way up.
Washington Fuller re-alignment images via Albany County
Hi there. Comments have been closed for this item. Still have something to say? Contact us.