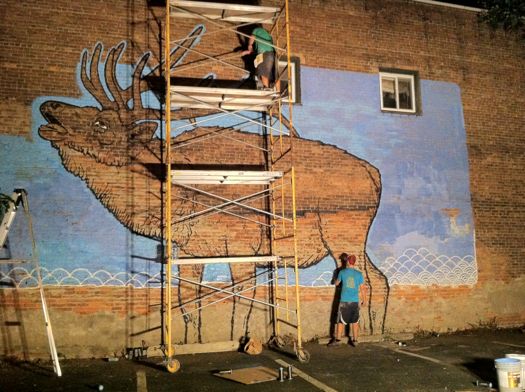 Update: Check out Sebastien's account of getting his wall included. He also has photos from a bunch of other murals.
Last night we got to watch a little of the Living Walls project in action. And it was cool.
We caught muralists Broken Crow in the midst of putting up this giant Elk on the wall of a house on Spring Street in Albany.
The finished product, and some thoughts from Broken Crow, after the jump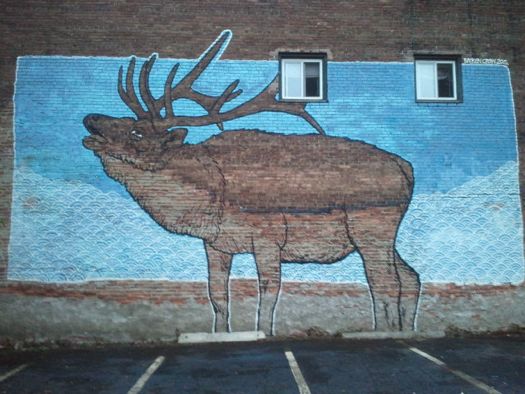 John Grider and Mike Fitzsimmons, aka Broken Crow, came to Albany from Minnesota this week. As of Wednesday they'd done four murals and they're hoping to finish about seven while they're in town for Living Walls.
Broken Crow has worked on murals all over the world. The professional mural painters' work can be found on walls in Africa, England, France and cities all over the United States. Most of their murals include animals. A mural they finished earlier in the week at Second Street and Bogart Terrace shows a group of wolves.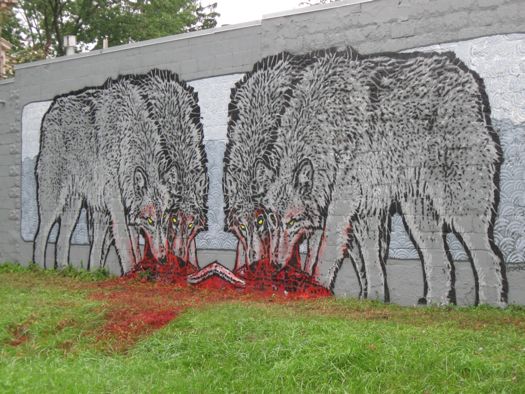 "Part of what we do is we reintroduce animals to where they've been removed from." Says John. We painted some predators yesterday -- a couple of wolves eating a carcass so we released some prey today."
So what do they want people to think when they look at a giant elk or wolves on the side of a building?
"We want people to really think about their cities and really think about their lives," says John. "And hopefully by seeing something really really big and really really beautiful they will stop and enjoy the moment a little bit more and realize that things happen outside of the city."
"It depends on the individual," Mike says. Any reaction is a good reaction. We're all in this together -- its just as much for us as it is for the community ... we love doing it. We just hope that other people are happy."
All of Broken Crow's work is site specific. They chose this elk for the Spring Street wall (donated by Sebastien) because when you stand in the right spot, it will look like the elk is eating the leaves off the trees. "We wanted this guy to be interacting without the plants," John says.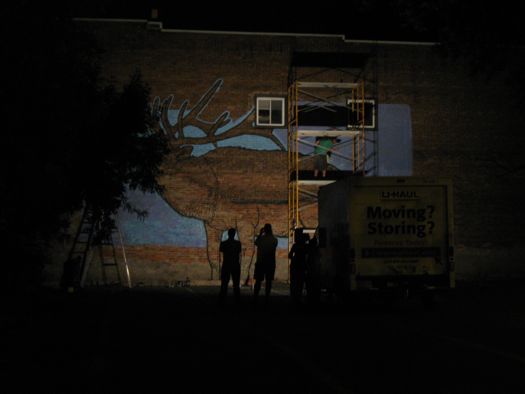 In this case, the building actually influenced the shape of the piece. "There's a really nice line where the break off from the old building was," Mike points out, "and we just kind of ran up and placed the head so the line was part of the neck shading."
Mike and John say they're also looking to create fun landmarks with their art. "We've gotten emails from moms who are like 'My kids are so proud that we live by the pink goat!'," John remembers. "And even though they had nothing to do with the actual painting of the mural, it became like a point of pride and a part of the community."
"These murals will really change the city in a positive way," says Mike, "they'll help it be looked at as a contemporary cutting edge place -- 'Oh look at all this cool stuff that s going on. And the artists that they're bringing in will have worldwide recognition instantly because o f the internet."
Here's a partial list of where you can see some of the other Living Walls murals.
Hi there. Comments have been closed for this item. Still have something to say? Contact us.