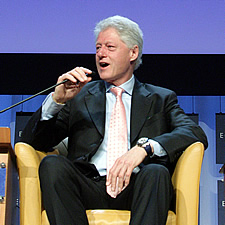 Update: Here's video of the speech.
____
Shh, don't tell anyone: Bill Clinton will be speaking in Albany next week (Tuesday, September 27).
The former president will be the keynote speaker at a conference at the Empire State Plaza for the regional economic councils set up by the Cuomo administration. The event is open to the public, but there's a ticket lottery. You must enter by the end of this Tuesday (September 20) and confirm your intent to attend within 24 hours of being notified.
Oddly, the Cuomo admin seems to be underplaying the event a bit. On the website for the economic councils, it's just billed as "Governor Andrew M. Cuomo/ REGIONAL COUNCIL STATEWIDE CONFERENCE/ September 27, 2011- Albany, NY." Stars are always so touchy about whose name goes above the title...
Bill Clinton was last here in March when he spoke at UAlbany.
[via Biz Review]
photo: Flickr user World Economic Forum
Hi there. Comments have been closed for this item. Still have something to say? Contact us.