By Danielle Furfaro
Like a beacon in the poetry wasteland, the Nitty Gritty Poetry Slam has arrived. It's been years since Albany had an honest-to-goodness slam, but now they will happen twice a month at Valentine's, thanks to a collaboration between Albany Poets, Urban Guerrilla Theatre, and the Frequency North Reading Series. The city's first slam in 10 years took place on September 6th and there's another one planned for tomorrow (Tuesday).
We spoke to the elusive Dain Brammage, Slammaster of the Nitty Gritty, about the politics of slams, how to score a zero and the haiku face-off.
Why did Albany need a poetry slam?
The closet poetry slam is in Oneonta, a college slam and one in Binghamton. There's nothing that close to Albany. Having been in the scene for about 10 years, I know that there are a lot of performers who can really shine doing this. We can get into national events once we're certified.
How did Albany's first poetry slam in ten years go?
It went really well. We got about 40 people attending. Ten people signed up and eight competed. People bring a lot of energy. A slam can bring out the best in a poet. Algorhythm got third place, Tammy Lopez took first and Shannon Shoemaker came in second. Dan Wilcox got our first zero from a judge. He did a piece in honor of John Cage. He stood there saying nothing for three minutes.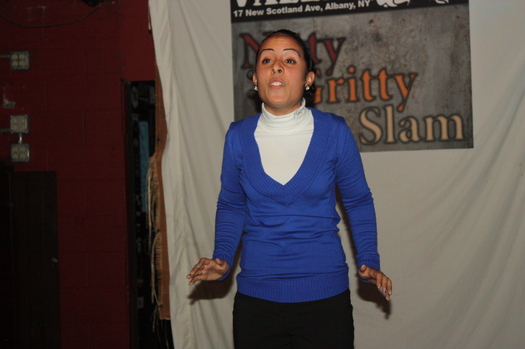 Tammy Lopez won the first Nitty Gritty Poetry Slam with a piece called "Here she L(eyes)"
What's the difference between a poetry slam and a poetry reading?

A poetry slam is a spart, part sport, part art. The sport part comes into play because there is judging, like in competitive diving. Five judges are picked from the general audience and they give each piece a score of zero to 10 based on the performance and the content of the poem. We collect the five judge's scores and drop the highest and the lowest then add the other three together to get a single score ranging from 0 to 30.
Each poem performed cannot be longer than three minutes plus a ten second grace period or a half point will be deducted from the score for every second that the performer goes over. Each poem must be written by the poet performing and there is no use of props allowed. We also have a no-repeat rule in effect, which means the performers cannot repeat a poem they perform at that night's show. The third highest scoring performer takes third place and win $10. Second place wins $15 and first place wins $25.

Each poetry slam is a little different, but there are three national events each year, The National Poetry Slam (NPS), which focuses on team performance; the Individual World Poetry Slam (iWPS) which is all about the single performer; and the newest is the Women of the World Poetry Slam (WOWPS) which like the iWPS except that it is for women only. These events pay out cash prizes of $1500 to $5000, plus other benefits. They draw from all of the certified poetry slams in the Nation and sometimes from overseas.
What kind of crowds do poetry slams usually attract?

Word nerds. In my opinion, Poetry Slams attract poet/spoken word artists who want to make a go of it. It is your best chance to get noticed and tour performing poetry. It is not the only way to do that, but it is the probably the easiest. These people truly try to perfect each piece they write, practicing it over and over until they know it cold. It also therefore becomes the audience's best chance to see a top-notch performance in the poetry arena.

Do they tend to be people who have been writing for a long time or people new to the poetry scene?

Both. I started taking poetry seriously when I caught the movie Slam Nation on HBO. I had always wanted to perform but was one of those who could not play an instrument well enough to be in a band. When I saw Taylor Mali perform I thought to myself, I should try to do that. I never really made it as a Slam Poet though. I did not have the discipline needed to make it in that scene.

For some people, when you see a slam, you just have to give it a try. Maybe you have always written silly little poems like I did and needed something like Poetry Slam to kick you in the butt to take it seriously, or maybe you have been trying to write a great classic poem your whole life and get exposed to Poetry Slam and want to join in that fun too. It is like an illness, some people get infected, and some people are immune.
What's the coolest thing you've seen happen at a poetry slam?

The coolest thing I ever saw happened when I was a volunteer for the 2005 Individual World Poetry Slam in Worcester, Mass. There were all of these side-events that happen during the day or late at night. I attended the Haiku Battle where poets got up on the stage two at a time read haiku head-to-head. Audience applause determined who won and that person advanced until they got down to a single winner. It was kind of like Slam, but with haiku. I hope we can bring an event like that to Albany too.
The Nitty Gritty Poetry Slam will be held the first and third Tuesday of every month at Valentine's. Sign up is at 7, open mic at 7:30 and slam starts at 8.
Here's the Tammy Lopez with her 1st place performance at the 1st Nitty Gritty Poetry Slam. Heads-up: you may want to watch the volume because of language. Your office and the Nitty Gritty Poetry Slam may have different rules about that kind of stuff.
*This interview has been lightly edited.
photos courtesy of Dain Brammage
Hi there. Comments have been closed for this item. Still have something to say? Contact us.