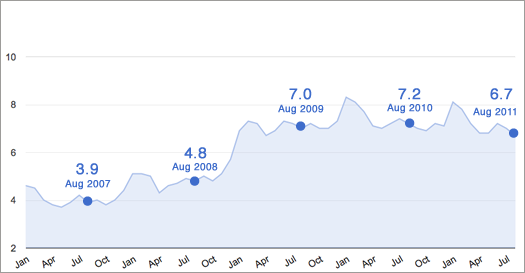 The Capital Region's unemployment rate was 6.7 percent in August, according to data out Tuesday from the state Department of Labor. That's down from 7.2 percent in August 2010, and 7 percent his past July. (August 2010 is the best comparison because the data is not seasonally adjusted.)
Even with the decline in unemployment rate, the Capital Region still had fewer people employed this past August compared to a year ago -- about 4,000 fewer people. There were just under 30,000 people unemployed in the Capital Region last month.
The chart above tracks the Capital Region's unemployment rate by month over the last five years, with each August marked.*
The state's unemployment rate was 7.7 percent, down from 8.3 percent in August 2010. The national unemployment rate was 9.1 percent.
Breakouts for local counties after the jump. Saratoga County had one of the lowest rates in the state.
* The five-year chart is based on data from the federal Bureau of Labor Statistics, plus the reported unemployment rate for August 2011 from the NYS Department of Labor (which could be revised). These numbers are also not seasonally adjusted. So, grains of salt for the chart.
Hi there. Comments have been closed for this item. Still have something to say? Contact us.