By Siobhan Connally
A tiny modern cityscape is taking shape in the heart of Chatham's bucolic countryside. But you won't find buildings at the end of its sidewalks, and the only traffic will come by skateboard.
When it's finished in late October, Chatham Skatepark will join only a handful of outdoor skateparks in upstate New York including the skatepark at East Side Recreational Field in Saratoga Springs, Clifton Park Action Park, Blatnick in Niskayuna, Copake Skate Park, Oakdale in Hudson, and Saugerties skate park.
It will also be one of only two concrete skateparks between Montreal and New York City that offers bowl skating.
The $120,000 park is $20,000 from completion, and Chatham recreation director Shari Dixon Franks isn't confident they'll reach their goal.
"With the economy as bad as it is, how can you ask people for more money for a skatepark?"
As Dixon Franks surveyed the construction site one recent rainy day, she looked anxious. Two skate private facilities in the Capital District -- The Skate Factory in Ghent and The Shelter in Albany -- closed this year in part because of dwindling admissions. Saratoga filled in its bowl in 2010 fearing increased liability after it stopped staffing the skate park and adopted a skate-at-you-own-risk policy.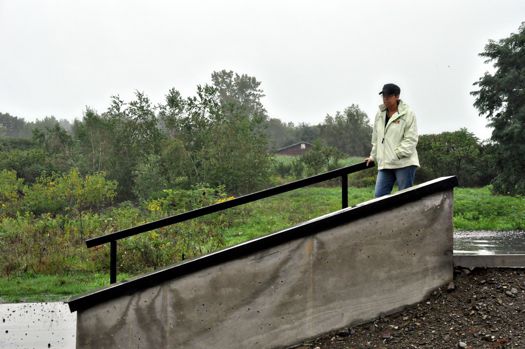 Franks has been at the helm of the Chatham project since its inception four years ago. She's helped the Chatham skatepark committee and the Crellin Park Foundation raise about $100,000 of the $120,000 they needed to complete the skatepark, which will have both street-style skating and the area's first clover-shaped bowl.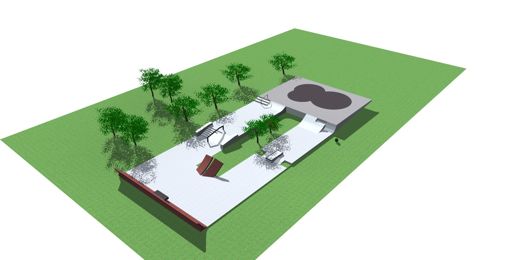 Taking the park from concept to reality, while a labor of love, has been arduous. Securing grants, organizing fund raisers and keeping the cause in the public eye has been time consuming for Franks.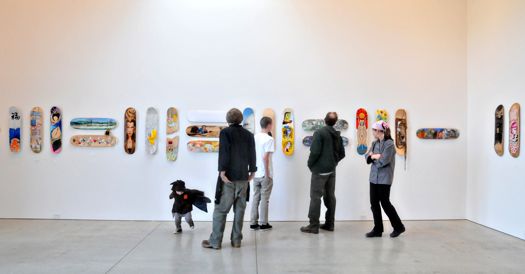 But there's still that question of the remaining $20,000, and how do you justify the expense in such difficult economic times.
"I'll tell you how you answer it," says Benj Gleeksman, a 37-year-old art director and skater from Saratoga Springs who volunteered on the Chatham Skatepark design committee and helped raise money for the park through its "Stoked" skatedeck art fund raisers. "You tell them that skateboarding is more popular statistically than all other mainstream sports. It's more popular than football, basketball or soccer. You go to baseball fields and soccer fields and they're empty. At a good skatepark there's always 15, 20, 30 people. People need to recognize that and provide for the people who do it. That's how you answer that question."
More formal surveys from the last few years report that skateboarding participation rates among the general public still trail sports such as soccer and tennis. But, depending on the survey, there are somewhere between 7 million and 10 million people who say they've skateboarded in the year leading up to being asked. And according to the National Sporting Goods Association, skateboarding participation increased 74 percent between 1998 and 2007.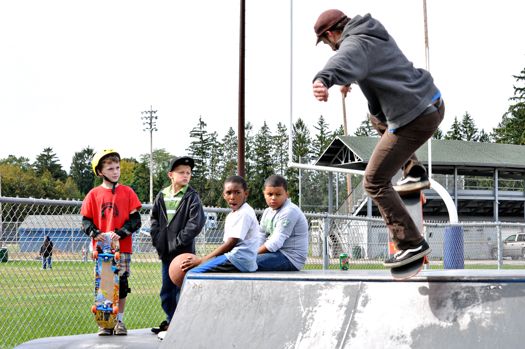 Gleeksman, who skates mainly at the Saratoga skatepark, is avid about concrete and is part of a group lobbying to reclaim the bowl in Saratoga. He hopes, as Franks does, that Chatham will be a steppingstone for more concrete park development upstate.
"Parents wanted it, officials were behind it and when the master plan for Crellin Park (where the Chatham skate park would be located) was compiled, the skatepark went to the top of the list," says Franks.
"Most cities and municipalities are hard to get on board with this. The problem is that insurance sees it as high-risk even though the truth is that athletic fields are statistically more dangerous. There are fewer injuries on skateparks than in athletic fields," she noted.
According to a U.S. Consumer Products Safety Commission fact sheet, about a third of all skateboard injuries occur within the first week of skating, and that 50 percent of all skateboarding injuries are the result of irregular riding conditions. CPSC findings also indicate fewer brain injuries were reported for skateboarding than in sports such as football, basketball and horseback riding.
Nick Buono, an Albany attorney and skateboarder, is hoping to convince the city of Albany it's time to embrace skateparks.
"Now seems like the appropriate time," he says, noting that Chatham's success is part of the drive to convince the city it needs an outdoor concrete public skatepark to replace an ad hoc site at the Washington Park tennis courts.
"It's in the infancy stage right now," says Buono of the effort. "I literally just started a Facebook page -- Capital Region Skate park -- and already it's gotten 25 hits. ... There are probably thousands of skaters in Albany if you count the 8-year-old kid who got one for Christmas or the guy like me, in his 30s, whose been skating for 25 years."
Buono envisions a destination park for Albany, double or triple the size of Chatham.
"Albany is behind the times. It's illegal to skate on the street. How can they ticket if they don't give us a safe place to do it?"
Tom Noble -- owner of Who Skates, the firm building the Chatham skatepark -- says how parks are constructed are more important than why they are constructed.
"Skateboarding started and belongs on concrete," says Noble, who formed his company in 1987 and quickly realized he was going to have to compete with playground manufacturers who already had the municipal connections but not necessarily the skateboarding ethos.
"When they told [government officials] they could prefabricate the parks out of steel and set them up over tennis courts, that was really the beginning of the death of skateparks," he says. "The constructions were loud, they were uninspired and unchallenging. They attracted only the beginners and the whole lifestyle began to disappear."
For a decade, he said, these poorly constructed parks made of metal and fabricated boards either rotted, sat idle or only drew enthusiasts who never progressed past beginner level.
In March of 2007 he decided he'd had enough.
"I couldn't build this stuff anymore. I figured I was either done or I'd have to turn the tables. That's exactly what I've done. I needed to put an end to this pre-fab stuff. So I developed a business that was compatible with building smaller projects."
Slowly, he says, his ideas are catching on.
The skatepark his company built in Saugerties, he says, has completely changed the mindset of the Hudson Valley.
"There's a pre-fab park in Redhook that is like a poster child of what not to do. Saugerties spent about the same amount for construction of its concrete park and now, two years later, it's not only in pristine shape, it's standing-room-only on weekends."
In addition to Chatham, Noble's got deals going with Claverack and Lee, Massachusetts, and he is in talks with other northeast municipalities such as Lake George and Pittsfield.
"I think one of the great misperceptions people have is that this is a sport for 14-year-olds. That is just totally wrong. The base age of skateboarders is between 35 and 45 years old," says Noble, who likens skateboard enthusiasts to artists.
"Skateboarders don't outgrow their passion, their styles just change."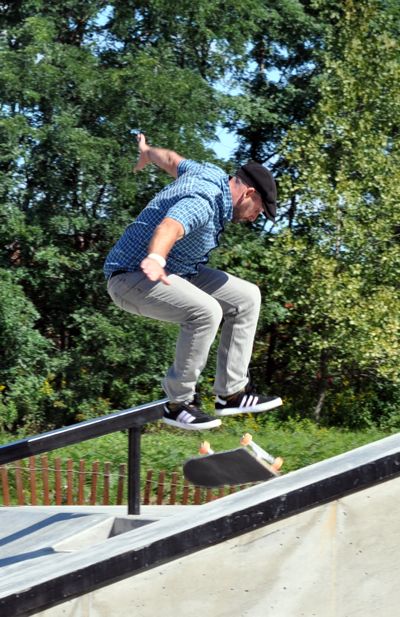 Kris Qua, a long-time skater and photographer from West Sand Lake who serves on the Chatham park's planning committee, said he believes the potential exists for Chatham Skatepark to help shape a new generation of skaters.
He envisions organized activities such as summer skate camps and even competitions, though none have been planned yet.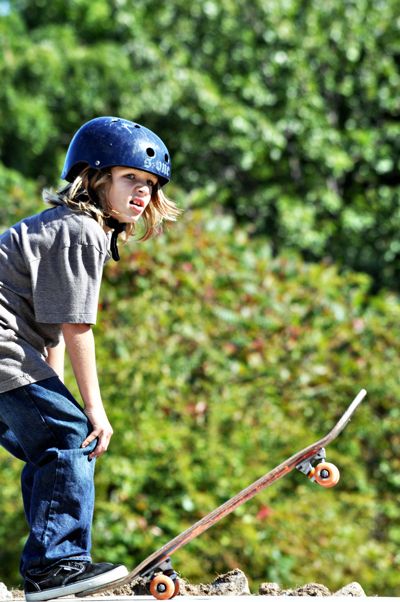 Qua says he plans on having skate time with his son at the park at least once or twice a week. "I don't know how to say this really. ... Us old guys will probably be a presence. Looking over the park."
Franks agrees: "Most people see skateboarding as a negative, but most of the adults I know who grew up with the sport are family guys with careers and still use skateboarding as their way of fitness and relaxation."
And Gleeksman fits that profile, too. With a wife and two small children, though, he doesn't think he'll visit Chatham as often as he'd like. "Skating is the biggest thing I do on the side. But my family is bigger. They will come first, but I will always have a piece of my heart in that park."
Siobhan Connally shares her writing and photography at Ittybits & Pieces.

Hi there. Comments have been closed for this item. Still have something to say? Contact us.