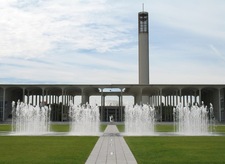 The Albany metro area ranks 15th in a list of the "most economically vibrant college towns" from The Atlantic and Richard Florida.
They applied the term "college town" somewhat loosely:
Our measure is not limited to smaller, more traditional college towns, but also includes larger metros like Boston, San Francisco, Washington D.C., and New York, which are home to major college campuses and large numbers of students and faculty. We measure economic vibrancy in terms of six key variables: per capita income, high-tech industry concentration, the rate of innovation (measured as patents per capita), human capital (the percentage of adults with a bachelor's degree or higher), percent of the workforce in the creative class, and the affordability of housing.
Boulder was #1 on the list. (Tangent: Should we start nurturing Boulder envy? Is Boulder the new Portland? The new Austin?)
(Thanks, Jess!)
Hi there. Comments have been closed for this item. Still have something to say? Contact us.