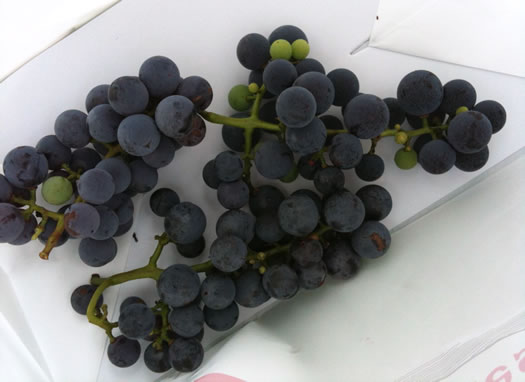 We were at Samascott Orchards this past weekend stocking up on apples when we noticed they also had concord grapes available for pick-your-own. We walked over to rows of vines and that's when it hit us: the strong aroma of grape -- and not just grape, but grape.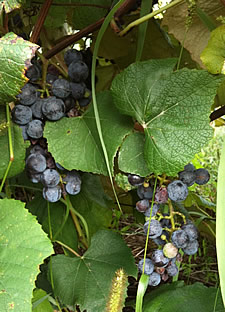 Concord grapes rarely seem to be eaten fresh -- maybe because of the seeds -- but you've almost certainly had them as grape juice (about 90 percent end up as juice) or classic peanut-and-jelly grape jelly. They also are the basis for the "grape" flavor in candy and other somewhat-less-than-naturally-flavored foods.
And that's kind of what's remarkable about Concord grapes: they taste so grape-y, that they almost taste unnatural. (It probably says something that we live in a cultural where our baseline reference for a flavor is not the flavor itself but some artificial representation of it.) But instead of the flat grape note in a gum or candy, this is like someone playing a grape chord. It's delicious.
Concord grapes are a very local food, in the sense that they originated in this part of the United States. They were first cultivated in Concord, Massachusetts in 1849 from wile grape vines that grew in New England, selected for their ability to ripen early before the northeastern frost (apparently European varieties struggled in the climate here). The man who cultivated the grapes -- Ephraim Wales Bull -- didn't end making much money from the variety, a fact noted in his epitaph: "He sowed others reaped."
One of the biggest Concord grape growing areas is now in western New York -- and Westfield, New York calls itself the "grape juice capital of the world". (Charles Welch -- yep, that's Welch -- built a grape juice factory there in 1897.)
Anyway, we're now in Concord grape season. If you keep an eye out, you'll see them sometimes at farm stands around the area (also at the supermarket). And you can pick your own at Samascott ($2 a pound). There are probably a few other local places you can do that -- if you know of any, please share.
Hi there. Comments have been closed for this item. Still have something to say? Contact us.