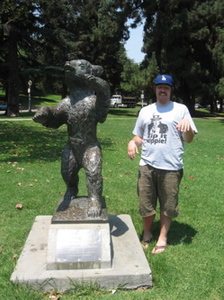 It's Monday again. Time for another My Exit. Tonight at 8 there's another guest DJ on WEXT to share their favorite music.
Here's more about him, and about what he wants you to hear...
Who?
Thomas Peretti of Albany, NY: leisure sports enthusiast.
Musical Taste:
A friend once described my musical taste as "Guitar rock with a guy kinda talk-singing over it."
Songs from Thomas' My Exit show:
Pavement - "Loretta's Scars":
Probably my favorite song by my favorite band. I saw these guys nine times last year on their reunion tour, it was pretty fun.
Dinosaur Jr- "The Lung"
These guys are really loud live. One time my brother and I saw them open for Built to Spill in a theater and he slept through their set. It was an incredible achievement, as I've suffered from temporary hearing loss both times I've seen them.
Surfer Blood- "Floating Vibes"
Not to name drop, but I have been lucky enough to hang out a few times with the guitar player from the Ithaca band "Sun Spells". He recommended I get into Surfer Blood. When a world-class musician like that tips you off about a band, you would be doing yourself a disservice not to check it out. I did and sure enough, they're not too shabby.
Beach House - "Walk in the Park"
My friends played this song roughly 1,000 times over a few days this past New Years and since then it's been sort of burned into my brain. It could have been worse- had it been something like "Magic Man" by Heart, I'd be unable to type this as I would be in a straitjacket at the local mental institution. Either way, Beach House is a pretty pleasant band and this is one of their better songs.
You can hear Thomas' My Exit show tonight at 8 on 97.7 or at exit977.org.
Here's how to schedule your own My Exit show on WEXT.
Hi there. Comments have been closed for this item. Still have something to say? Contact us.