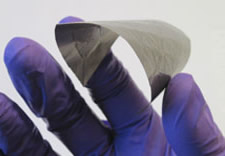 An interesting Troy company announced today it's gotten a $1 million grant from NYSERDA, the state's renewable energy agency. [Paper Battery]
The Paper Battery Company says it's getting the money to build a pilot production line for its "fully printed energy-storage device that is as thin as a piece of paper."
Yep, the company is developing batteries that can be printed onto a paper-like surface.
The technology behind this idea was developed at RPI. Researchers there figured out a way to embed carbon nanotubes in a piece of paper so that they act as a electrodes, and then soaked the paper in electrolytes. (Cue the explanatory graphic, and background on the general principles behind batteries). The resulting battery can reportedly be "rolled, twisted, folded, or cut into any number of shapes with no loss of mechanical integrity or efficiency." [RPI] [BBC] [Wikipedia]
There could be a lot of applications for such a product -- in electronics, of course, but also in places such as buildings. For example: the underside of a roof covered with solar panels could theoretically be papered with these batteries to store energy created by the panels.
Paper Battery isn't the only company pursuing this technology -- at least a handful of companies around the world are trying to commercialize. The problem with a lot of this sort of technology is figuring out a way to create it cheaply on a large scale. The company says the NYSERDA money will help it build toward commercial manufacturing, which it aims to start in 2013.
PBC (can we call you PBC?) is located at the Sage Colleges INVEST business incubator.
photo: Paper Battery Company
Hi there. Comments have been closed for this item. Still have something to say? Contact us.