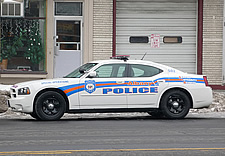 Kirsten Gillibrand announced today that the feds are dropping almost $4 million on the city of Albany to hire more police officers. And Troy is getting $350k to do the same. [KG]
The APD says it will be able to cover the salaries and benefits of 16 new officers for three years with the money. (Related question: what happens after that?) [@JCEvangelist_TU]
There's research that indicates one of the best ways to reduce a city's crime rate is to hire more police officers (police officers are "a bargain" according to one economist), though there's also research that indicates otherwise. During New York's City's famed decline in crime during the 90s, its police department added large numbers of officers to its ranks -- though the crime rate has continued to decline this decade even as the officer count has also receded. (The continued fall in crime rates all around the nation during the past decade has experts kind of baffled.) [Marginal Revolution] [Reason] [NYT] [NYT]
All other things being equal, it seems reasonable to expect that having more cops on the streets of Albany is a good thing -- especially if those officers are engaged with the community, a goal on which the APD currently appears to be focused. The crime rate in the city has been dropping, but there are still spots with serious problems. [TU] [TU]
(Related: there seems to be a perception among many people -- especially those who live outside the city -- that Albany is constantly crime ridden. Does the presence of more cops start to lessen that fear, or does it somehow subconsciously signal "crime here"? Doesn't change whether more cops should be deployed to reduce crime, but PR counts sometimes, too.)
Just out of curiosity, we did a little math to figure out how Albany's residents/cop count compares against that of New York City:
Albany: 311 residents per police officer
NYC: 237 residents per police officer
The Albany figure is based on the count reported by the TU's Jordan Carleo-Evangelist today. The NYC number is via the NYPD.
photo: Flicker user JLaw45
Hi there. Comments have been closed for this item. Still have something to say? Contact us.