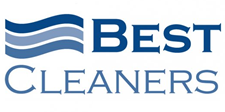 Next up in our shoptastic adventure is the lovely Laura. To say we enjoyed spending a day with Laura Perfetti is an incredible understatement. She was fun, positive and open to new ideas. And the always fashionable Kaitlin Resler had a few in mind.
Laura is the mother of a 1.5 year old boy and feared she had fallen into "frump mode." But she works in a performing arts center and wanted a look "as eclectic as the art we present." She has a high school reunion coming up soon, and she wanted a look that would wow her old classmates, but be something she could still pull off for work.
Before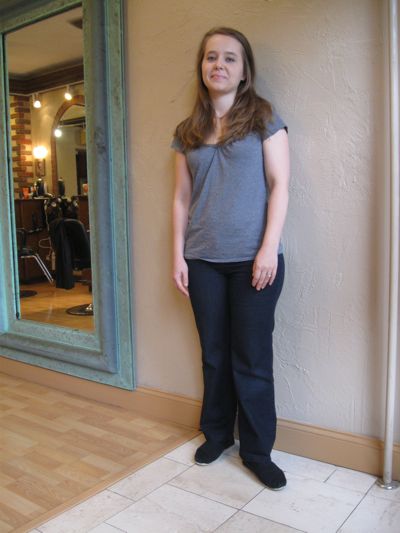 Laura arrived in her comfy t-shirt and jeans.
The Hair
Rebecca's Take:
Laura wanted to keep her length and didn't want high maintenance color. So I trimmed the ends and cut some long loose layers. This way she can wear her hair wavy when it's down, but still be able to pull it back for kid-related action! We also decided on some natural, but noticeable highlighting. Highlights only have to be done every few months, and the blonde color was not so dramatic that should she decide not to keep up with them she won't have major roots.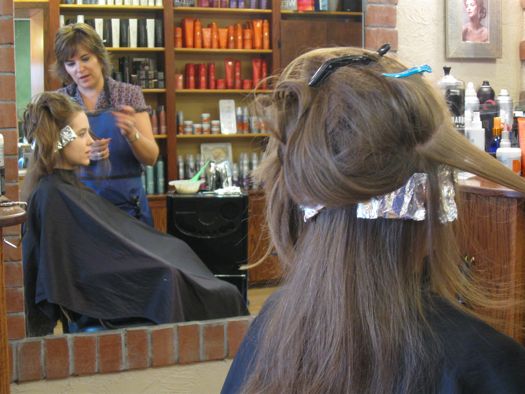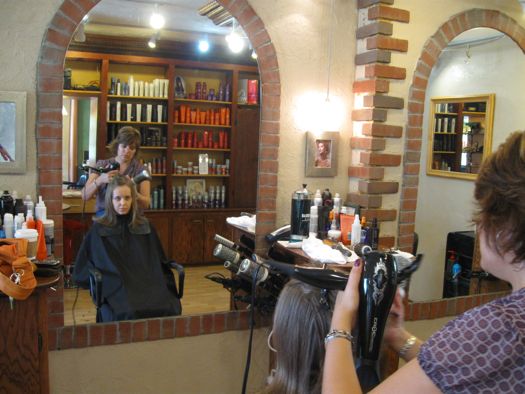 The makeup:
Next was Laura's make-up session with artist Sabeen Pervez. Pervez works on models and in film and television. She used MAC products and chose some warm, autumn colors for Laura.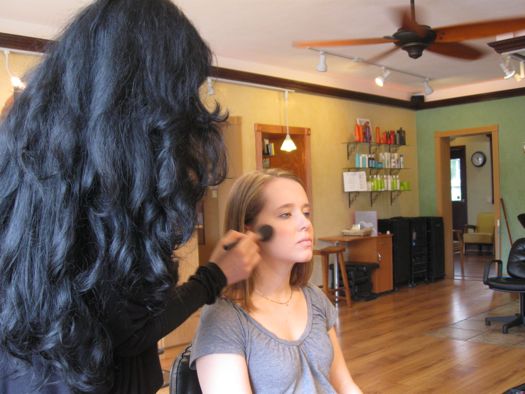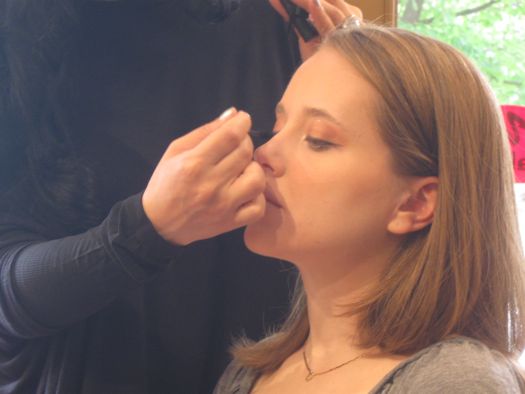 Sabeen's take:
Laura has amazingly gorgeous blue eyes so I wanted them to be a bright focal point. I added a neutral coral shade to her eyes and finished with a pewter brown shade of pencil liner, that was placed solely on the top lid to give a fresh approach to the "winged liner' and keep everything clean and polished.To give a flawless glow on her skin, I used a gel based foundation and followed by a warm coral blush to compliment her with a natural flush of color. To finish the look, I applied a natural coral brown gloss.
Shopping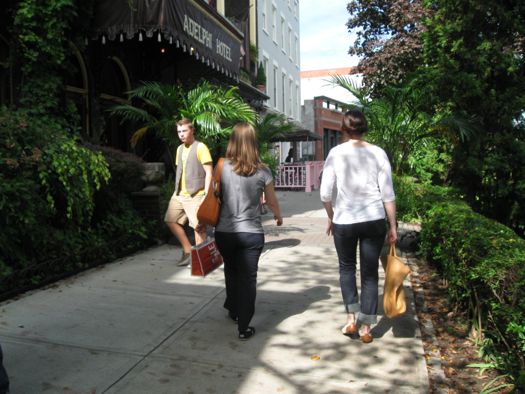 Kaitlin was going for a little bit of a polished look for Laura. During a pre-shop the day before she spotted this score -- a dress from Banana Republic's Mad Men Collection at 35% off: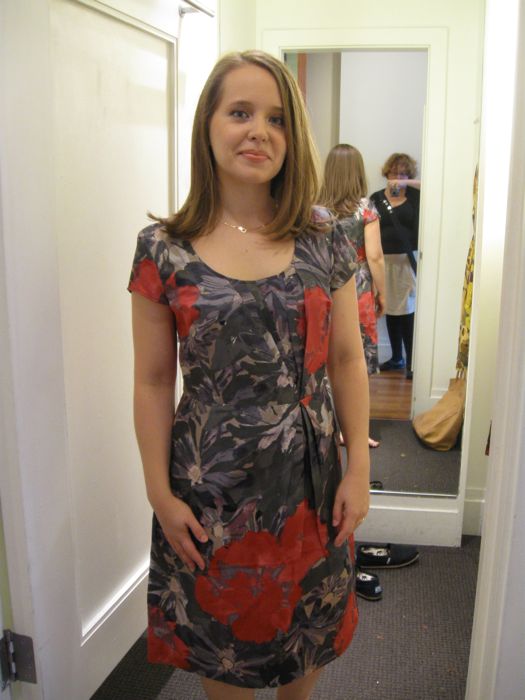 We strolled down to the other end of Broadway in search of shoes. At Violet's and Stella's we found this pair of tan leather pumps that compliment Lauren's new dress, without being too "matchy."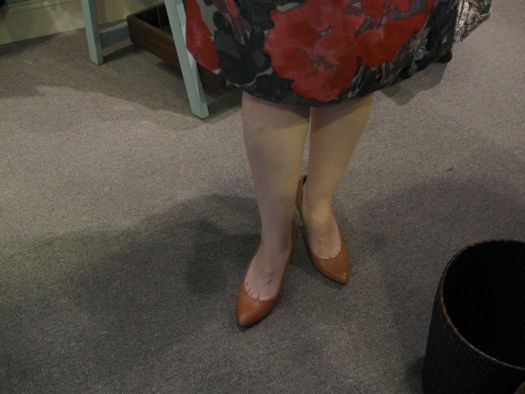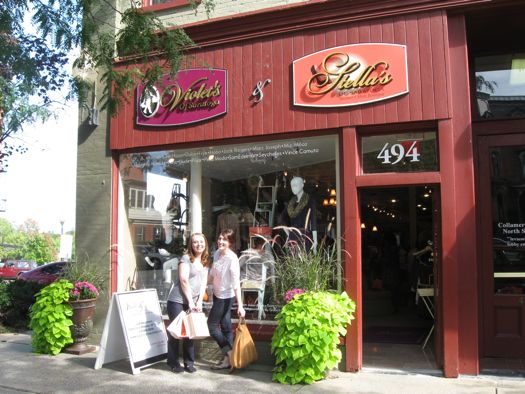 The look was almost complete, but we needed something that would keep Laura warm when the weather really started to turn -- and help stretch a September outfit through November. A trench from H&M did the trick.
The Look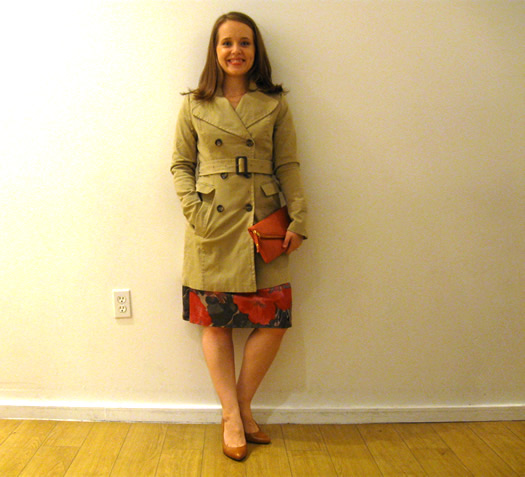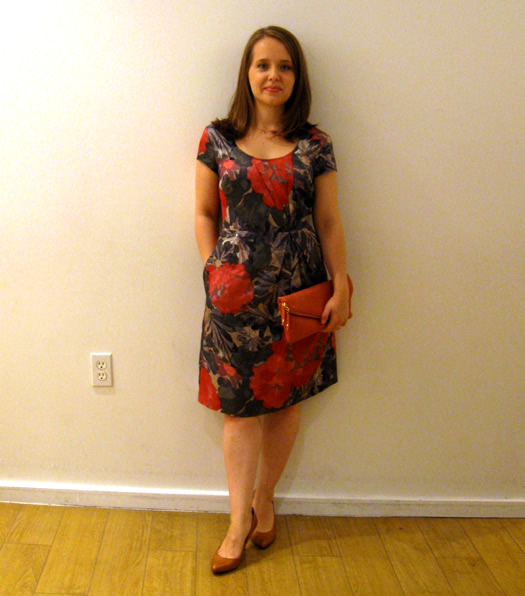 + Banana Republic Mad Men inspired dress - $58.49
+ Leather pumps from Violet's & Stella's - $84.53
+ Clutch from Violet's & Stella's -$49.44
+ Trench from H&M -$51.45
+ Earrings from Forever 21 - $4.07
Total: $247.98
Kaitlin's Take:
I liked the idea of finding a dress that would transition well into autumn, maybe even winter, the print and material being the key. We found the Mad Men-inspired line in an abstract floral print from a heavier-weight cotton fabric. The dress can move into fall with some tights and boots, maybe with a chunky cardigan.
Trenches are kind of my favorite thing to wear in the spring and fall, they somehow make any old outfit cool, so we knew she'd wear it with other things.
The shoes and clutch are probably my favorite finds of the day, both because of price and color. We tried some shoes that matched the cranberry flowers on the dress, but it ended up being a bit too bridesmaid-y, and they were also a little on the low side. The not-quite-brown color was a great compliment without being too matchy, and the bag was something we spotted on our way out the door, and we all fell instantly in love with it.
The thing about shopping in Saratoga is you're sometimes limited by price, and general availability. We did end up in a lot of chain stores (although I find that the locations out there are less picked-over than the Albany stores size-wise) for the main pieces, but found the special accessories in small boutiques, which I think is really key to shopping there.
Laura's take:
The end result was definitely a more polished and brighter Laura. My hair was different, both in length and color, but still easy to maintain and put up in the ever needed ponytail while chasing my son around the house! My makeup was a different take on my everyday application - bright, simple, with a touch of fall tones. My outfit is something I can wear to work, a casual dinner party or even my upcoming 10-year reunion.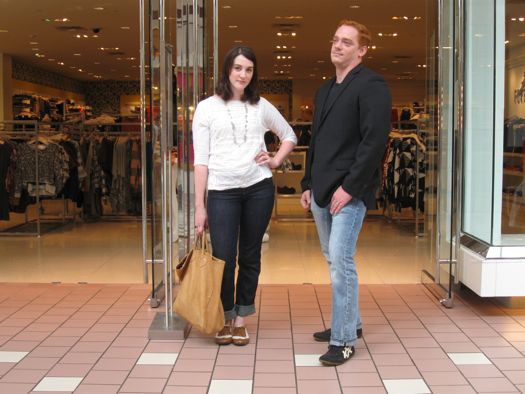 Many thanks to everyone who helped us with the refresh. Rebecca Taft at V Salon, Sabeen Pervez from MAC, Kaitlin Resler from All This Happiness and Erik Dollman.

Best Cleaners can help you keep your fall wardrobe looking great. It has 10 locations around the Capital Region -- and offers free delivery.
Hi there. Comments have been closed for this item. Still have something to say? Contact us.