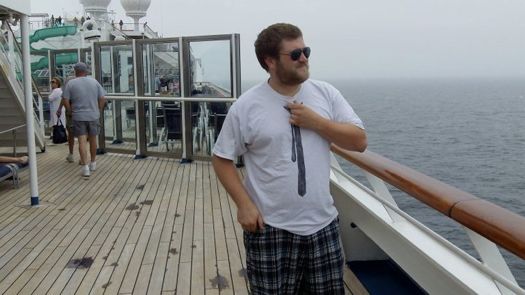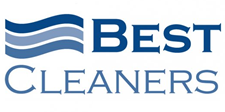 Well, the shopping, trimming and styling are done and it's time to unveil the results of the AOA/Best Cleaners Autumn Refresh.
We start with Asa.
First, we totally have to say what a great sport Asa was. He tried on clothes and shoes in stores all over Saratoga and Wilton and was open to whatever Erik suggested. As an IT consultant, Asa's work uniform is a red t-shirt and baggy jeans -- a look he carried over into the rest of his life. He wanted to move from his trademark t-shirt and jeans to a business casual look -- largely for the sake of his girlfriend.
We think she'll be impressed...

Before:
Asa showed up in his work uniform -- a company issued red t-shirt and jeans.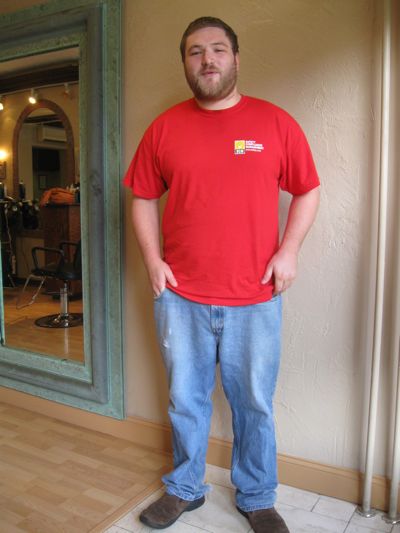 The Hair
Rebecca went to work on Asa's hair (which was pretty short already) and beard.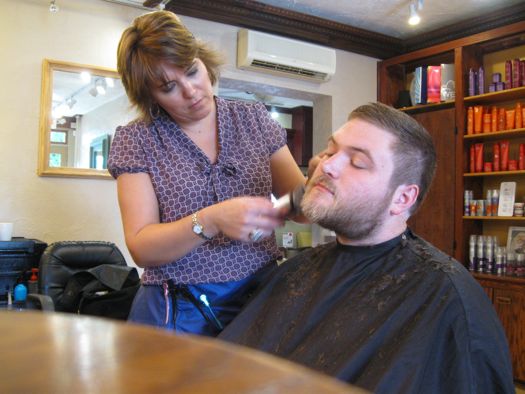 Rebecca's Take:
Asa cuts his own hair so it's just short and "round." I made the sides a bit shorter than the top so it doesn't look like he has a "ball" of hair. I used a little styling paste to give his hair some definition; hair like his tends to grow out before it gets long so using a bit of styling wax or pomade can help keep it from getting too "big." He wasn't ready to get rid of the beard completely, but it hadn't been trimmed in awhile so we cleaned it up a bit without it looking too "groomed."
Asa's take:
I've already been getting all kinds of compliments on my hair. Who knew my head wasn't completely round. It now has some shape to it.
Shopping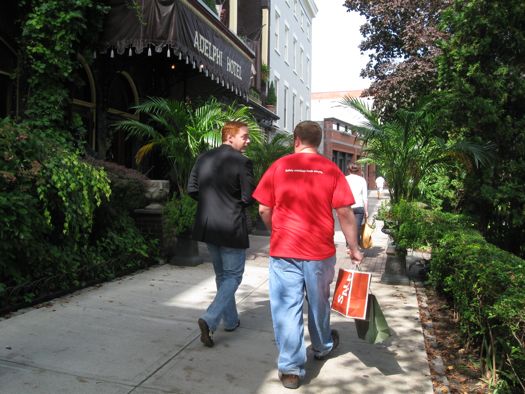 We started shopping in downtown Saratoga, which has a nice array of women's options, but not as much for men. At Banana Republic we found a classic white button down shirt and a couple of dressier tees to mix and match.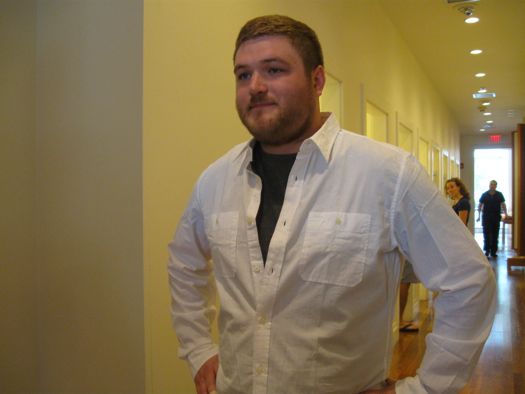 Next we found another classic, a pair of khaki pants from Eddie Bauer on Broadway -- a comfortable alternative to Asa's jeans.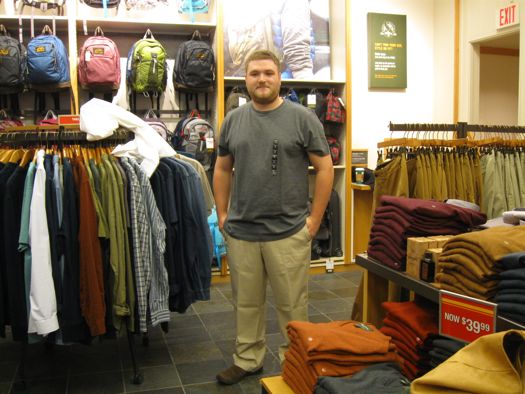 The hunt for men's shoes took us to the Wilton Mall where Erik also managed to find a second look for Asa. A pair of comfortable black loafers at Payless still left Asa with enough money to pick up a great purple button down shirt on a final clearance at Express.
The look: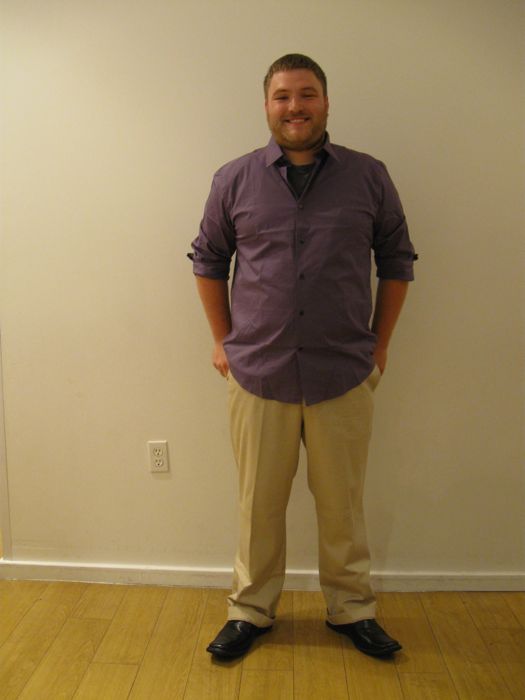 + Eddie Bauer khaki pants - $74.85
+ Payless Black loafers - $41.19
+ Express purple button down $32.95
+ Banana Republic White button down $63.66
+ Banana Republic Gray T-shirt $12.51
+ Banana Republic White T-shirt $15.70
For a total of $240.86
Erik's Take:
When I saw the pictures of Asa, I was relatively certain that his main concern, from a clothing perspective, was comfort. I wanted to show him that we could find clothes he would look great in, and be comfortable as well. Additionally, I wanted to push him a little outside of his comfort zone, but put him in clothes he would actually wear. Lastly, I wanted to give him some versatility. A few nice garments that can be mixed and matched with each other can make a huge impact on a wardrobe.
Asa's take:
I finished the day with new pants, four shirts, shoes and a new appreciation for what it takes to put some effort into your appearance. It was a great experience for me and thanks to Erik and Kaitlin, I'll probably be shopping at some stores I would never have gone into in the past.
Many thanks to everyone who helped us with the refresh. Rebecca Taft at V Salon. Kaitlin Resler from All This Happiness and Erik Dollman.

Best Cleaners can help keep your fall wardrobe looking great. It has 10 locations around the Capital Region -- and offers free delivery.
Hi there. Comments have been closed for this item. Still have something to say? Contact us.