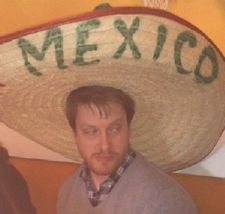 It's Monday again. Time for another My Exit. Tonight at 8 there's another guest DJ on WEXT to share their favorite music.
Here's more about him, and about what he wants you to hear...
Who?
Steve Baird, currently living in Saratoga Springs. Bon vivant...Man about town...Director of "Tango & Cash"
How would you describe your taste in music?
I devour music. All kinds. Indie, hip-hop, classical, jazz, trip-disco, post-polka, etc, etc. I can probably fill two classic iPods with the music that I own and actually still want to listen to regularly. It's becoming unhealthy.
A few songs from Steve's My Exit show:
"True Blue" - Dirty Beaches
This song and the rest of the album, "Badlands," sounds like the soundtrack to a David Lynch-Quentin Tarantino movie collaboration that never happened, but should.
"Rest" - Parts & Labor
A criminally underrated post-punk band from Brooklyn, their albums are nothing but blistering major-key post-punk anthems, one after another. This is from their latest album, "Constant Future."
"Last Days of Disco"- Yo La Tengo from And Nothing Turned Itself Inside Out (one of my five favorite albums of the '00's)
It makes you feel calm and wistful and the same time. Best listened to at sunset. Apologies for the emo description.
"New Paths to Helicon I" (live) - Mogwai
This version of the track comes from a 2001 tour EP, and is the closest it comes to capturing their devastating in-person live sound. They're the only band I know whose audience will display pure, stand-still reverence as their ears begin to bleed. They demand to be seen live more than any other band in this mix.
You can hear Steve's My Exit show tonight at 8 on 97.7 or at exit977.org.
Here's how to schedule your own My Exit show on WEXT.