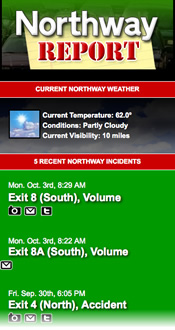 Mark Delfs, the creator of the local fill-in musician site GigSavers, emails:
With the knowledge I gained from teaching myself how to construct [GigSavers], I made a followup site called "The Northway Reporter," which will allow the typical Northway driver an opportunity to report all the traffic incidents they see on a daily basis--the radio is too slow with reports and while I was stuck in traffic the other morning, I figured on making a site that we could all use to report (and get reports) about why we are all still getting stuck in traffic on I-87.
The site is formatted for mobile browsers (is it texting-while-driving if traffic's not moving?) and includes links to traffic cams. There's also a Twitter feed. More features are listed after the jump.
This kind of thing usually only becomes useful if a bunch of people use it. But even if it never reaches that point, we give credit to Mark for building it. A lot of people say "Wouldn't it be great if (fill in possibly useful thing) existed..." -- very few actually do something about it.
More features listed in Mark's email:
Features currently include:
• Submit your own I-87 traffic reports
• See a traffic camera if there is one available at that exit
• See other traffic reports added from users stuck on the Northway
• Reports are auto-added to our Twitter account (http://www.twitter.com/northwaytraffic)
• Send a tweet with the horrible details of why you are stuck in traffic
• Mail the horrible details of the traffic incident to a friend
• Formatted for today's smartphone (you are stopped in traffic, so it's technically not texting while driving)
• RSS feed
• Current weather in the local area
More features to come if people start using it!
Earlier on AOA: GigSavers
Hi there. Comments have been closed for this item. Still have something to say? Contact us.