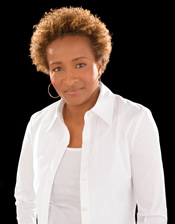 Two comedy shows this weekend worth mentioning:
Upright Citizens Brigade The touring company of improv troupe Upright Citizens Brigade will be MASS MoCA Saturday. UCB has turned out a bunch of now-famous comic actors over the years: Amy Poehler (one of its founders), Ed Helms, Rob Corrdry, Horatio Sanz, Rob Riggle, Jack McBrayer, Aziz Ansari, Nick Kroll, Paul Scheer, Aubrey Plaza, and on and on (the list of former members and guests is impressive). The show at MASS MoCA starts at 8 pm on Saturday. Tickets start at $25 ($20 for students).
Wanda Sykes Also on Saturday, stand up comic Wanda Sykes (that's her on the right) will be at the Palace. You've probably seen her on TV or in movies. Show's at 8 pm. Tickets start at $20.