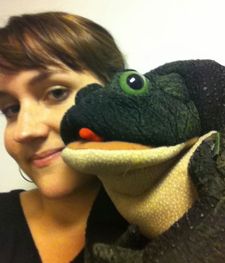 It's Monday again. Time for another My Exit. Tonight at 8 there's another guest DJ on WEXT to share their favorite music.
Here's more about her, and about what she wants you to hear...
Who?

Leah LaFera, librarian and small business owner from Schenectady.

How would you describe your taste in music?
I listen to a lot of catchy indie rock and pop, music that makes me bounce in my seat. There is also a big old soft spot in my heart for bluegrass and Motown.
A few songs from Leah's My Exit show:
The idea for my train (the transportation mode, not the pop group) themed My Exit show came to me on my commute home along the Mohawk River Valley stretch of the NYS Thruway. I live next to train tracks and I race the Amtrak cars to and from work in the morning. Trains and the culture that surround them have always fascinated me. While there are many, many songs that have been written about trains and railroad life, my selections reflect my own eclectic musical tastes. Post some of your favorite songs about trains as comments below.
"Loco-Motion" by Little Eva
If you can get past all those times you were forced to dance this at a wedding as a child, this hit song is actually rather wonderful. This song definitely makes me bounce in my seat.

"Downtown Train" by Tom Waits
I love the tone of this song and of course Tom Waits gravely voice. It is a very somber romantic song with its imagery of lonely wanderings in the streets of NYC.

"Fear of Trains" by The Magnetic Fields
Stephin Merritt is a genius humorist and songwriter. I also feature the song "Born on a Train" from the same album. The decision between the two was near impossible for me so I put them both in!
You can hear Leah's My Exit show tonight at 8 on 97.7 or at exit977.org.
Here's how to schedule your own My Exit show on WEXT.
Hi there. Comments have been closed for this item. Still have something to say? Contact us.