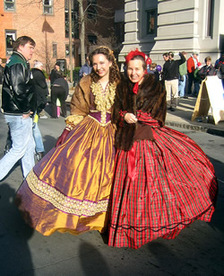 Mary emails:
Now that the leaves are turning its time to think about Troy's Victorian Stroll (This year it is Sunday, December 4, noon to five pm). Do you or your readers have any tips on where to locate a Victorian style bonnet?
This might be a tough one. Our first thought was costume shops -- but we're not sure how popular the Victorian look is right now for costumes (you know, unless it's "sexy Victorian"). And a bonnet like this probably goes way beyond "vintage."
Anyone have suggestions? Please share!
photo: Sebastien B
Hi there. Comments have been closed for this item. Still have something to say? Contact us.