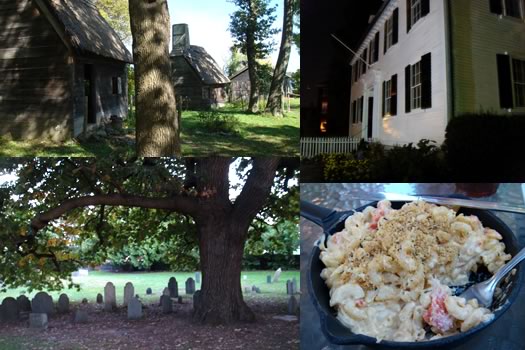 By Nick Fahrenkopf
October just seems like the right time of year for a trip to Salem, Massachusetts. After all, Halloween is coming up -- with all its related witch stories -- and it's a nice time of year to take a drive and visit an old New England town.
Salem is one of those many places that people say is "just a few hours away" from the Capital Region.
So last weekend, I packed up and headed east on I-90 for a little haunted New England history.
The trip
We headed east on I-90 destined for I-95 north to loop around Boston to Salem just north of the city. We didn't set out on our trip until about 9 am, and (probably due to the holiday weekend and gorgeous weather) we spent about 40 minutes on I-95 going 10 mph. Lesson learned: leave earlier in the day. Though ours was longer, the drive will usually take about 3 and a half hours.
The Salem Pioneer Village 1630
Our first stop was the only spot outside of downtown Salem, the Salem Pioneer Village 1630. It's a small outdoor village where a few actors give you a sense of what life was like in Salem before you get into all the witch trial hullabaloo.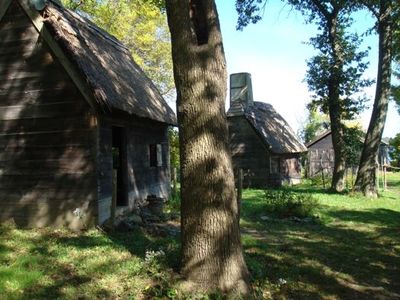 The village is on the waterfront within the town park, so it also makes a great picnic lunch spot. Parking was free and plentiful, and with $6 admission you get $2 off at the Witch House (more on that later).
Downtown Salem
Salem in October is a little like Saratoga Springs during track season. But once you find a spot to leave the car, you're pretty much good for the day. Just about everything you might want to do in Salem -- shopping, eating, historical sites -- is within about a half-mile area. We didn't get to do or see everything we wanted to in our one-day visit -- there's a wax museum, a trolley tour, a pirate museum, and the Peabody Essex Museum (their historical society).
Parking tip: MBTA's commuter rail station lot is only a few blocks from all the attractions. The lot technically is two lots: one for MBTA customers and the other is the city's "Bridge Street Lot", which is free on the weekends. It seemed a little sketchy at first, and I was worried about getting ticketed or towed or something -- but we had no problems.
The Salem Witch Museum
If the extent of your knowledge of witches is derived from Hocus Pocus, this is an excellent primer. None of the people executed or jailed during the Salem Witch Trials were witches. The irony is that there are a lot of witches in Salem today.
The museum was mobbed even this early in October so if you can, order your tickets online. ($9 but there is an AAA discount.)
The Jonathan Corwin House
Next we headed to the Jonathan Corwin House -- also known as "The Witch House." (OK, fine, we stopped at Ben and Jerry's for some Schweddy Balls first, but THEN we visited the Witch House.) The house is billed as the only house in Salem with direct ties to the Trials -- Jonathan Corwin was the judge who presided over the trials. It was a very well put-together museum filled with knowledgeable guides. ($10.25 but there are discounts from the Pioneer Village, Student Rate, or AAA.)
Witch break
If you need a break from Witch Trial History, there are lots of neat little shops downtown filled with things vintage, kitsch and yes, touristy. (Though the town itself didn't feel that touristy to me. Well, aside from all of the tourists.) Decorations were subtle -- along the lines of fall or harvest themed, not necessarily "Salem" or "Witch" themed. It wasn't really spooky.
Aside from the history, the town looks just like a typical New England town. You could spend most of the day the way we did -- learning about the history at all the different houses and museums -- or you could shop and enjoy an autumn day and hardly realize you were at the site of the Salem Witch Trials. There's also a pedestrian zone on Essex Street, smack dab in the downtown area, that reminded us of Church Street in Burlington. It was like a street festival with vendors, entertainers, etc. with lots of small stores and shops along the street.
The Lobster Shanty
If you do nothing else in Salem, eat at The Lobster Shanty.
I'm a little embarrassed to admit my secret desire to someday visit an establishment that was featured on Guy Fieri's Diners, Drive-ins, and Dives. Not because I'm a fan of his crazy hair or backwards glasses, but because the food he sinks his teeth into always seem amazing (in that gluttonous, not-good-for-you, but still delicious kind of way).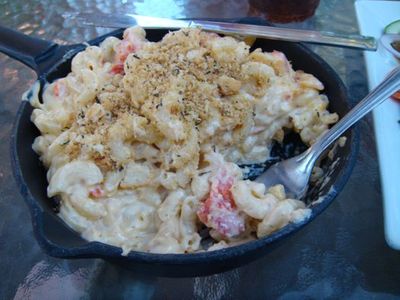 We ordered the lobster mac and cheese and the lobster roll. Lobster mac and cheese is usually mac and cheese flavored with some lobster and maybe a few lobster strands. A lobster roll in our region is usually a creamy lobster salad on a roll. But at the Shanty there were huge chunks of lobster in both dishes. You could easily tell that one chunk was from the claw because it was still claw shaped. The Shanty's tag line warns customers about "Warm Beer, Lousy Food, Surly Waitresses, Rude Bartenders, Cranky Cooks," but nothing could be further from the truth. Fair warning though, the menu for non-alcoholic drinks has a category for sodas labeled "Flat Soda" -- it is, indeed, flat. (Dinner for two was around $50.)
The Burying Point
Once dusk started to set on Salem we walked up to the Burying Point in the center of downtown (on Charter Street). The Burying Point is the oldest cemetery in Salem, and one the oldest in the country. In it, you can find the graves of important historical figures from the witch trials like Judge Corwin, and Judge Nathaniel Hawthorne. There is also a former governor and a passenger from the Mayflower.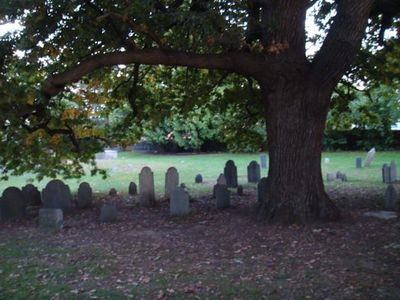 You won't find the graves for any of the executed women, though -- they weren't allowed to be buried in what was considered hallowed ground. Instead, right next to the cemetery is the Witch Trial Victim's Memorial which has a monument to each victim.
Walking tour
There are lots of options for walking and trolley tours around Salem. We chose Salem Historical Tours' "Haunted Footsteps Ghost Tour." While longer than some ghost and walking tours I've taken, this tour was awesome. It covered a bunch of areas around downtown (including the Witch House and the Victim's Memorial) over the course of two hours.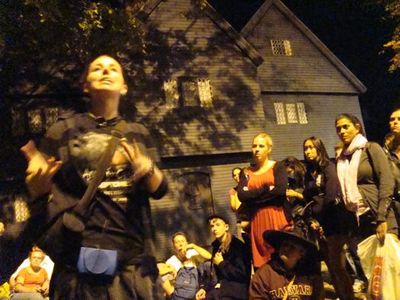 A couple of highlights:
+ Henry Derby House at 47 Summer Street: According to our guide, this B&B is haunted by an "intelligent spirit" named Sarah who tucks guests in very tightly overnight so they don't die from the cold like she did. So if you plan to stay overnight and want to maximize your chances of an otherworldly encounter, stay here. Our guide did mention many guests end up switching to the Hawthorne Hotel after being too creeped out!
+ The Ropes Mansion on 318 Essex Street: This was one of the houses in Hocus Pocus. ($14/$10 for students.)
Back home
Overall we had a great day and were back home shortly after midnight. Fifteen hours round trip, but totally worth it for a pre-Halloween adventure. Of course, if crowds are not your thing you might be best to wait for one of the other 11 months of the year. Most of the attractions in Salem are open year round.
Nick Fahrenkopf loves a good day trip. He's a life-long resident of the Capital Region, an alumnus of (and current Nanobiosciences PhD candidate at) UAlbany. You can find him on Twitter @AlbanyNick.
Hi there. Comments have been closed for this item. Still have something to say? Contact us.