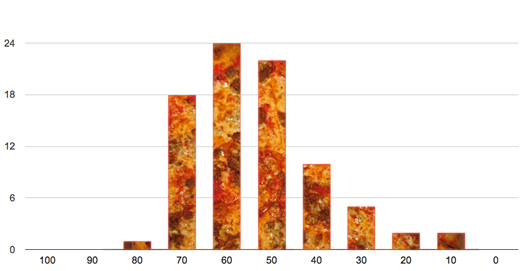 Now that we have about 2.5 tournaments-worth of scores on the 100-point scale from the Tournament of Pizza, we thought it'd be interesting (well, probably more fun than interesting) to crunch the numbers on those scores.
So, here's the results of that crunching: highests, lowests, averages, and all that...

Overall stats
Bracket averages
Pizzeria averages
Minimum just two matches
All scores
Results from the semi-finals of TOP2011 next week.
The 2011 Tournament of Pizza is sponsored by Sunmark Federal Credit Union, which is collecting donations for the Regional Food Bank of Northeastern New York to help Irene recovery efforts.
Hi there. Comments have been closed for this item. Still have something to say? Contact us.