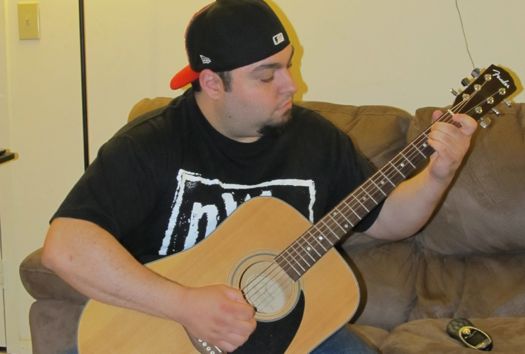 Happy Monday. Here's something to help you warm up to the week: a peek into tonight's My Exit My Exit hosted by derryX, AKA Jerry Papandrea.
Here's a bit more about Jerry, and some of what he's going to play tonight.

Who?
Jerry P. Papandrea, chemist in the research and development sector of the pharmaceutical industry by day, blogger and party host at derryX.com by night. I originally hail from the Bensonhurst neighborhood of Brooklyn, NY but I was transplanted to Orange County, NY as a child and, moved to the Capital Region of NY for college and graduate school.
How would you describe your musical taste?
I go through phases where I listen to the same thing over and over. Sometimes, I listen to Metallica and nothing else for months straight. Sometimes, it's the Beatles. Sometimes, it's music from the 80s new wave movement, 90s grunge era, or even gangsta rap. This leads to fun transitions in between when I really don't know what to listen to. Lucky for us all, today I fall right in this category. But, to be cliché and actually answer the question, I'll listen to almost anything from ABBA to ZZ Top; just don't make me listen to country music.
A few songs from Jerry's My Exit:
"Amanda's Box" by Plan 10
My good friend Brian G. was in a local punk band called Plan 10 during college. They played some key venues in the area, some of the now well-known places like Northern Lights and Valentines. While the majority of their music was "bubble gum" punk, they had one song on their demo cassette tape that they would break out on special occasions, usually when I begged for it. It's a song with a lot of energy; it was great to get the crowd amped. Since it was my favorite song by them, and I somehow ended up with the one remaining copy of the demo tape, I did Brian and company the favor of transferring it to a crude digital format. Tonight, about 10 years after the official split of Plan 10, they finally make it to the air.
"Jesus Fever" by Kurt Vile
I don't listen to much new music, but Kurt Vile is one of the newer artists that I appreciate and enjoy. "Jesus Fever" is certainly a song that makes me think. It's also upbeat and catchy.

"Tears in the Rain" by Joe Satriani
Forget the electric guitars. Forget the face melting guitar solos. From Joe Satriani's The Extremist album. "Tears in the Rain" is a move in the opposite direction for Joe. In this short song, he picks up a classical guitar and performs one of the most emotional pieces of music of the 20th century. Within the short 79 seconds of this song, you will feel sad; you will feel happy; you will feel complete.
You can hear Jerry's My Exit show tonight at 8 on 97.7 or at exit977.org.
Here's how to schedule your own My Exit show on WEXT.