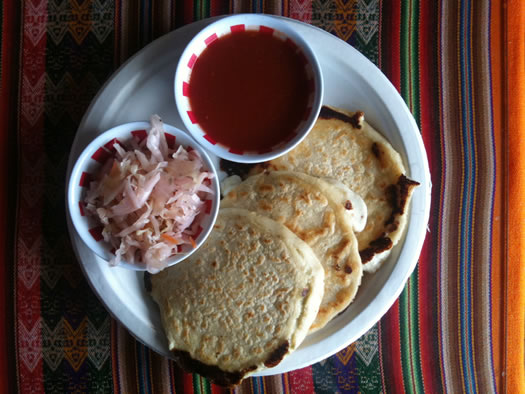 Everyone loves pupusas.
Okay, maybe not the lactose-intolerant or the gluten-free set. But if you can eat the component ingredients, which primarily involve cheese and cornmeal, it's a no-brainer. It's like a Salvadoran grilled cheese sandwich. Or perhaps you would like to think of it as a quesadilla pocket. I always likened it to an arepa with a more fine-grained cornmeal exterior.
But it's not just cheese. Pupusas come in a variety of flavors. You can get them with pork, beans or loroco, as well. Never had loroco? Well, you will.
Brush up on a few Spanish phrases, and get yourself down to Schenectady, pronto.
Maybe you won't need the Spanish, but a few friendly words never hurt: hola; por favor; muchas gracias; adios.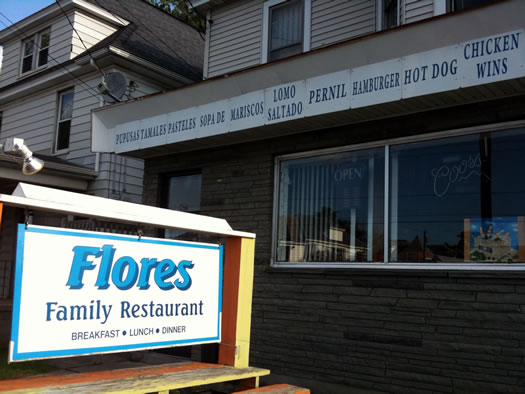 Officially Flores Family Restaurant is Latin American, offering specialties from around the region. While there is a sign out front that advertises the famous Puerto Rican dish pernil, it is unfortunately not on the menu.
What they do have is an obvious focus on the foods of Peru. Regional classics are all over the menu, like papa a la Huancaina, a cold dish of potatoes in a spicy cheese sauce and lomo saltado, sautéed beef with onions, tomatoes, and French fries.
But it's hard to get past the pupusas.
These come from El Salvador, which is also well represented at Flores, and this popular snack is front and center on the menu at the top of page two. Corn flour is formed into a dough, stuffed with cheese and your choice of filling, then cooked on a griddle until the cheese melts and the outside of the pupusa is toasted to a golden brown.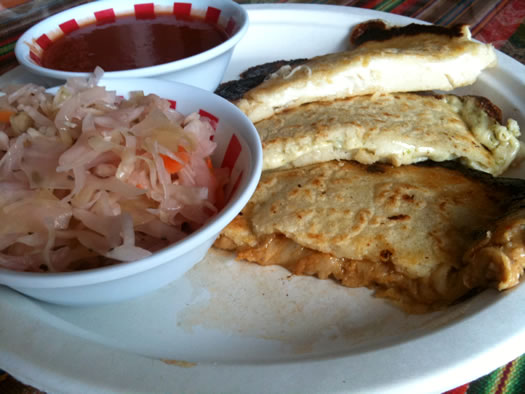 Plain cheese is fine for the unadventurous. Refried beans are by far my children's favorite, but that doesn't mean they aren't just as good for adults. Finely chopped pork is fatty and savory. But the more adventurous among you will step up to the loroco.
Loroco is the bud of an edible flower that grows in El Salvador. It's green, and comes finely chopped inside the pupusa. To me the flavor is a cross between a caper and over-cooked asparagus. Perhaps it will not be your favorite thing ever, but it's super-authentic, and you should try it at least once.
And at $2 per pupusa, it's not a great risk.
Not only are these things delicious, this is one of the great food values in the region. One is a hearty snack, two would make a reasonable lunch, and I couldn't eat three without feeling uncomfortable.
At Flores the pupusas come with their traditional accompaniments: a lightly fermented, slightly piquant cabbage slaw called curtido, in addition to a relatively bland and wet ground-tomato salsa. Eaten together, the curtido cuts the fattiness of the cheese and brightens and lightens the dish.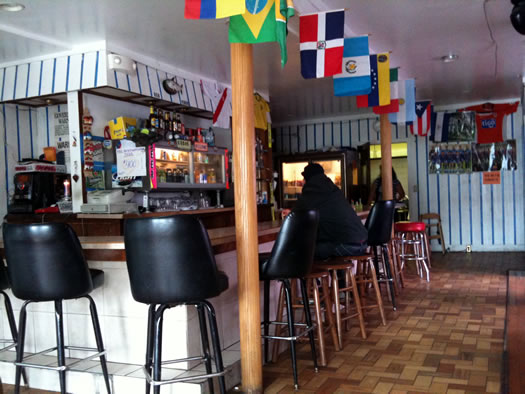 This may go without saying, but Flores is not a fancy place. So I don't want to hear about anyone complaining that a fork wasn't immaculately clean, or that their pupusas were served on Chinet paper plates. Walking into Flores is like being transported into another country. Try to leave your American expectations at the door. The sights and sounds may be foreign, but the primacy of cheese stuffed inside dough and grilled is universal.
For the record, I'll take a good pupusa over a mediocre taco anytime. The fact that we have a solid pupuseria in the Capital Region continues to fill me with glee. In fact, since they only have six tables and a handful of seats at the bar, I've been hesitant to even write about it until now.
Flores Family Restaurant may not be right for everyone. But the brave will be rewarded.
Daniel B. is the proprietor of the Fussy Little Blog.
Find It
Flores Family Restaurant
1427 State Street
Schenectady, NY 12304
Monday – Friday: 3 pm – 11pm
Saturday: 11 am – 11 pm
Sunday: 11 am – 10 pm
(518) 723-2281
Hi there. Comments have been closed for this item. Still have something to say? Contact us.