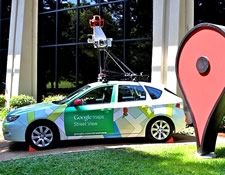 It seems like everyone's seen the Google Streetview car driving past sometime during the last few months. We recently emailed Google to find out when the images might started being updated online and got the "anywhere between a few months to a year" answer from a spokesperson.
Well, for parts of the Capital Region, the actual answer appears to be "right about now."
We checked a few theater marquees around the area to get a sense of when they were last recorded. It appears Proctors was captured in August (wrong, it's still the old one), and The Spectrum all the way back in June (also now online). In Troy, the old city hall is now partially demolished on Streetview. And there's a capture of the beginning of construction at the Albany NanoTech expansion. Also: the capture from the original Google crawl of the area that included one of the Editors is no longer online. It's too bad -- we were waving to the car.
A Google spokesperson says the old Streetview images aren't made available online. That's unfortunate -- it'd be fun to compare. You gotta think that will eventually make it online.
We had a handful of other questions for Google about how long it takes to crawl a metro area this size and stuff like that. Unfortunately, its spokespeople very politely said they couldn't answer most of the questions. And they wouldn't hook us up with the local drivers because "they work for us on a short-term basis. They're folks who are familiar with the local roads, but might not be familiar with Google's overarching project or mapping efforts." So it goes.
Here's a recent "Ask Me Anything" on Reddit with someone who says they were a Google Streetview driver.
(And if you were/are the local Streetview driver, we'd love to talk/email with you.)
photo via Google
Hi there. Comments have been closed for this item. Still have something to say? Contact us.