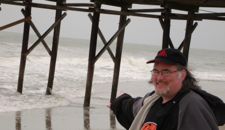 Every Sunday WEXT rebroadcasts their My Exit show -- where a listener gets to program the station for an hour.
This week's guest DJ is artist and concert junky Tim Reidy.
Who?
Timothy Reidy from Albany.
I am what Rush would call a performance photorealist, I call myself a music listener. Since 1 May I have been seeing at least 30 shows in a month. As of October 16th I'd seen 27 bands in October alone. I do art too, and my major accomplishment this year was to design the "Welcome to Albany" South End sign. Some people also follow my action at Nippertown.com.
How would you describe your taste in music?
I love rock, blues, progressive rock, African and Latin beats, and follow the local music scene a ton. When I listen to classical, I prefer symphonies, and do enjoy good singing that is powerful.
A few songs from Tim's show:
"Available Light" - Rush
This is the oldest song in the Radio Program, and is a part of Rush's best whole album Presto. I decided to have Rush Book End this program.
"Resist" - Rush
A great song without music accompaniment, this is even better with the full instrument recording by the Canadian Trio.
"Four Sticks" - Page and Plant
My first concert in the Knickerbocker Arena -- the place was packed. They have a great organic sound in this track.
You can hear Tim's My Exit show on Sunday morning at 10 on 97.7 or at exit977.org.
Here's how to schedule your own My Exit show on WEXT.
Hi there. Comments have been closed for this item. Still have something to say? Contact us.