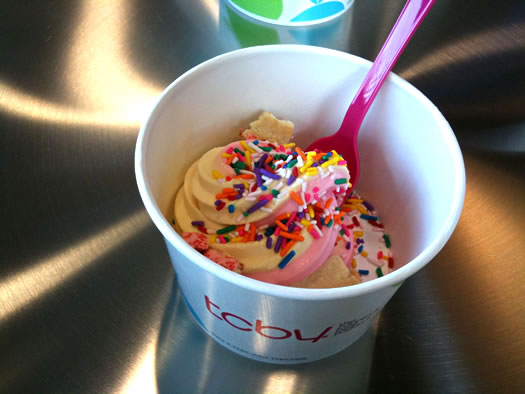 When we saw the sign go up a few weeks ago for a new TCBY next to the Five Guys across from Stuyvesant Plaza, our first thought was: "There is still such a thing as TCBY?"
The idea of a TCBY made us think of the 80s, leg warmers, and the non-fat craze (and that episode of Seinfeld). But frozen yogurt got a makeover during the last decade and somehow became popular again thanks to places such as Pinkberry and Red Mango. Last year TCBY re-tooled its image and approach, switching to the self-service model.
So, with that in mind -- and because we do love ourselves some frozen dessert -- we stopped by the new TCBY here to check it out.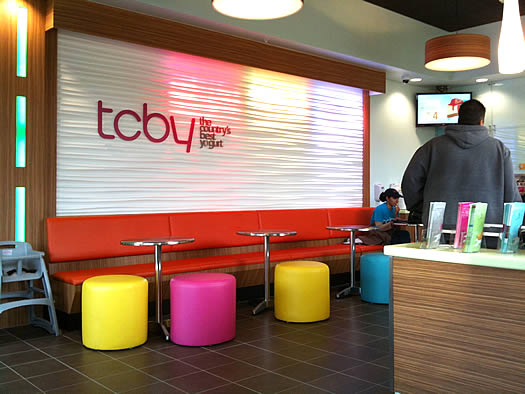 The new-look TCBY borrows a lot from the fro-yo trendsetters. It's self-serve. You can scoop your own toppings. The interior is bright, with candy-colored furniture and stainless steel.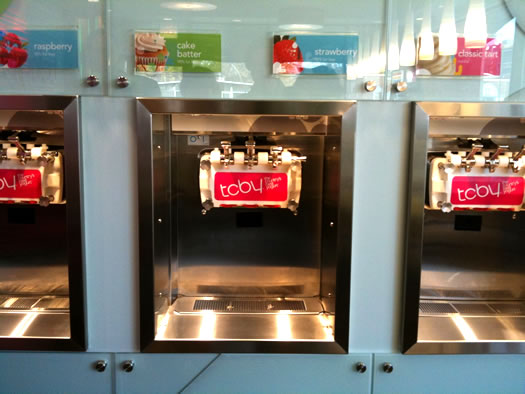 You take a cup -- which are huge, leaving room for toppings and, uh, overfilling -- and head for the wall of yogurt dispensers. The flavors are paired in combinations that could work together: peanut butter and chocolate, cake batter and strawberry, and so on. You pick your yogurt, and then head for the toppings bar.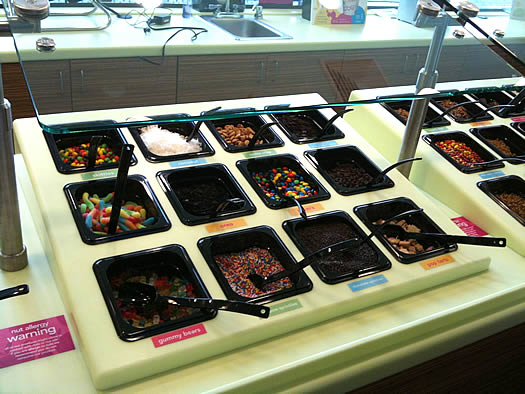 The toppings are more-or-less divided into categories -- healthy things like fruit, stuff like sprinkles and other typical ice cream toppings, chunky stuff like cookies and pop tarts, and nuts. Scoop. Scoop. Head to the registers.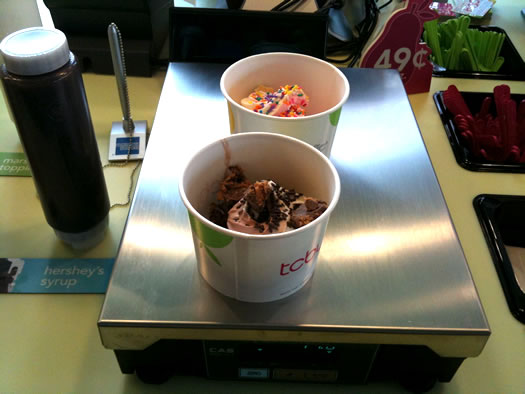 You place your yogurt on the scales because you're paying by weight -- 49 cents an ounce. These two cups, which were a combined 9.8 ounces, ended up being $4.80 before tax.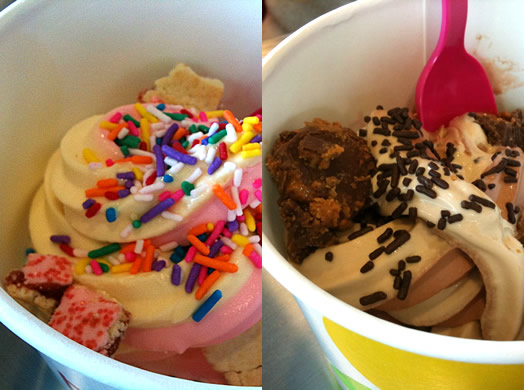 Our selections: chocolate and peanut butter with chocolate sprinkles and peanut butter cup topping, and strawberry and cake batter with sprinkles and crushed pop tarts (our first and last time for pop tarts as a topping).
How's it taste? Not bad. The flavors are strong enough -- the peanut butter really does taste like peanut butter. And the texture is smooth. But, you know, it's not ice cream. It's all smooth and sweet at first taste before trailing off. It's a pretty good substitute for soft-serve ice cream, though.
TCBY is still touting its product as "a wholesome snack that's as delicious as it is nutritious." And it says its yogurt is "Super FroYo," meeting criteria for nutritious content and actually being yogurt (this may be a subtle dig at Pinkberry). Four ounces of the frozen yogurt is around 110 calories (the same amount of Haagen-Dazs will set you back 260 calories). But that doesn't take into account the toppings, which range from healthy (fruit) to less so (Snickers pieces). And it'd be easy to overfill that huge cup. So, your nutritional mileage will vary.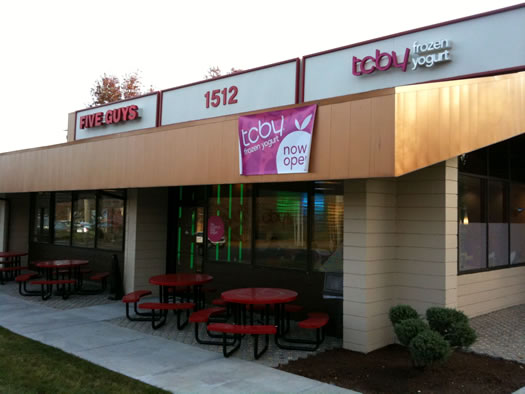 Would we go back? Sure. It tasted fine. And the price wasn't bad. The location is inspired, right next to a Five Guys (you know, if you can still think about eating after Five Guys). And we bet kids would have fun here, being able to pick their flavors and toppings.
Elsewhere:
+ There was already a new-style self-serve froyo place in Clifton Park called 16 Handles -- Ashallann checked it out this past spring. It looks like TCBY shares a lot in common with that place.
+ And in downtown Saratoga, there's Plum Dandy.
Find It
TCBY
1512 Western Ave
Albany, NY 12203
Hi there. Comments have been closed for this item. Still have something to say? Contact us.