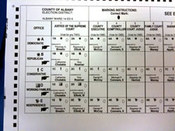 Here's a quick scan of results from local elections Tuesday. This is not a comprehensive list, just some highlights. Numbers are unofficial.
The boards of election from Albany, Rensselaer, Saratoga and Schenectady counties have results posted online.
Incumbents are marked with *
Albany County
Albany County executive
Dan McCoy (D)
98.83%
write-in
1.17%
Albany County comptroller
Mike Conners (D)*
99.14%
write-in
.86%
Albany County sheriff
Craig Apple (D)
99.41%
write-in
.59%
Three of the top jobs in Albany County were unopposed races.
Albany County Legislator 2nd district
Merton Simpson (D)
70.38%
Wanda Willingham (D, running on IND)*
24.62%
'
Willingham lost the Democratic primary, and her husband and daughter were recently arrested on allegations of public assistance fraud. [TU] [TU]
Albany County Legislator 6th district
Noelle Kinsch (D)
75.67%
Brian Scavo (D, running on Conservative line)*
23.77%
Scavo lost the Democratic primary, and has faced charges four times during his term in office. And there are allegations of questionable behavior as far back as 2005. [TU] [Metroland]
City of Cohoes mayor
John McDonald (D)*
97.13%
write-in
2.87%
City of Watervliet mayor
Michael Manning (D)*
92.41%
write-in
7.59%
Town of Bethlehem supervisor
John Clarkson (D)
67.50%
Kyle Kotary (R)
29.44%
Richard Reeves Ellington (WOR)
2.84%
Town of Colonie supervisor
Paula Mahan (D)*
50.64%
Denise Sheehan (R)
49.27%
Separated by 260 votes, so it could come down to absentee votes.
Town of Guilderland supervisor
Ken Runion (D)*
98.75%
write-in
1.25%
Village of Green Island mayor
Ellen McNulty-Ryan (D)*
73.10%
Richard Palumbo (R)
26.90%
City of Albany school board (2)
Ginnie Farrell
37.76%
Sue Adler
33.38%
Melissa Mackey
28.46%
The contentious charter school issue was an undercurrent in this race, and a charter school group had apparently been supporting Mackey. [TU]
Rensselaer County
Rensselaer County DA
Richard McNally (D)*
52.745%
Joel Abelove (R)
47.226%
Rensselaer County sheriff
Jack Mahar (R)*
55.877%
Gary Gordon (D)
44.075%
City of Troy mayor
Carmella Mantello (R)
45.118%
Lou Rosamilia (D)
54.514%
Rosamilia was a late entry to this race after replacing Clem Campana, who dropped out after allegations of scandal. [YNN]
North Greenbush supervisor
Alson Spain (R)
65.423%
Charles Smith (D)
34.462%
Saratoga County
Clifton Park supervisor
Phil Barrett (R)*
74%
Martin O'Connor (D)
26%
Halfmoon town supervisor
Mindy Wormuth (R)*
58%
Deanna Stephenson (D)
42%
Malta town supervisor
Paul Sausville (R)*
51%
Cynthia Young (D)
49%
Separated by only 60 votes.
Saratoga Springs mayor
Scott Johnson (R)*
52%
Brent Wilkes (D)
48%
Saratoga Springs public safety commissioner
Richard Wirth (R)*
47%
Christian Mathiesen (D)
53%
Saratoga Springs finance commissioner
Ken Ivins (R)*
48%
Michele Madigan (D)
52%
Schenectady County
Schenectady mayor
Gary McCarthy (D) - acting mayor
50.35%
Roger Hull (R, Alliance)
49.49%
They're separated by 77 votes, so it will come down to absentee votes.
Rotterdam supervisor
Frank DelGallo (RFP)*
15.21%
Harry Buffardi (D)
47.95%
Brian McGarry (R)
36.68%
Niskayuna supervisor
Joe Landry (D)*
55.54%
Anthony Pennacchio (R)
44.29%
Hi there. Comments have been closed for this item. Still have something to say? Contact us.