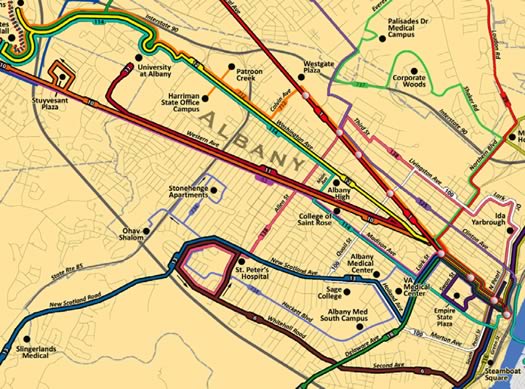 CDTA is reconfiguring its routes in Albany County, starting on Sunday (November 13). The transit org is touting it as "the largest service change" in the authority's history. From the blurbage about the changes:
Improved Trunk Routes -- CDTA trunk routes operate seven (7) days a week, from early morning until late night. Customers using Routes #6, #7, #12, & #18 will see increased frequency, later night and New Sunday service and consistent trip patterns with no deviations.
New Neighborhood Network -- Neighborhood routes will improve service to destinations outside of downtown Albany by:
+ Establishing additional cross-town service
+ Increasing level of service on streets with high ridership
+ Providing new service to areas with high demand
Improved Commuter Routes -- Provide more direct, peak period connections throughout Albany County to customer-requested locations including Albany International Airport, Corporate Woods, Harriman State Campus, Ohav Shalom and Stonehenge Apartment Complexes along with Patroon Creek Boulevard.
You might have noticed the blue bags over route signs along the road -- this is what those are about.
Here's a listing of the new schedules. A map of the restructured routes is embedded after the jump.
CDTA says routes in Albany County represent "well over 50%" of its ridership. So this is a big deal. Even more so if it actually makes the system more useful to people.

Scroll all the way up for the embedded map.
If that doesn't work, here's the direct link to a pdf of the map.
Hi there. Comments have been closed for this item. Still have something to say? Contact us.