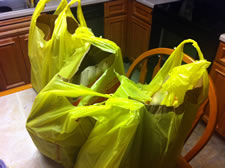 Check it out: Craig (Ellsass) gave ShopRite's home delivery service a try and wrote about the experience:
I love shopping online. I don't find much appeal in trekking to a traditional brick-and-mortar shop during whatever their hours happen to be, forcing a smile when the cashier mentions the weather, and waiting in endless lines. So it was with great excitement that I discovered that finally, in 2011, I can have groceries delivered to my suburban home for a reasonable price. Specifically, ShopRite in Niskayuna offers both in-store pickup (free) and at-home delivery at least as far as Latham (free until Thanksgiving for $50+ orders, otherwise a very fair $6.95 fee).
So how did it go? The ride was a little bumpy, likely due to ShopRite being very new in the area, but it all worked out well.
His post has lots of description, screengrabs, pics (those are his groceries on the right), and tips.
Price Chopper also now has a home-delivery service (hello, competition). Has anyone tried that?
Hi there. Comments have been closed for this item. Still have something to say? Contact us.