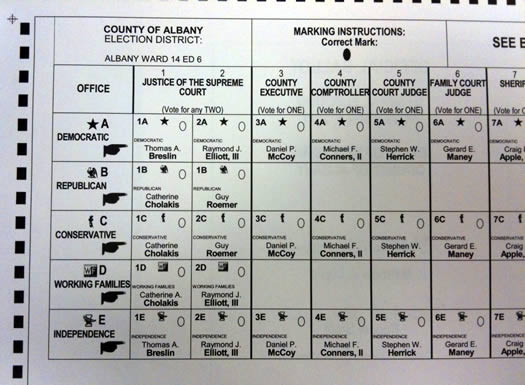 By Jennifer O'Connor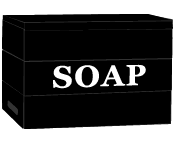 Tuesday was, of course, Election Day -- and for the third time in 12 years, I did not vote.
The first time I didn't vote was 1999. I turned 18 on October 3, was a freshman in college and was overwhelmed and misinformed about where to vote. The second time was in 2003. I had just moved to a new town and registered when changing my drivers license. The registration was never processed.
But this year, my absence from the polls was an active choice.
I'm registered at the address where I've lived since 2006, and my polling place is across the street. But, nearly every race for voters in Albany's 11th Ward (all but three, actually) was uncontested. I'm not talking about the "typical Albany" politics where there may be a Republican, or a third party, running that no one really takes seriously and has no shot of actually winning. No. Completely uncontested. The only candidate on the ballot.
I didn't vote last week, not because I didn't like my choices, but because I didn't really have a choice. As AOA stated on Wednesday, "voting for voting's sake is hollow." I didn't inherently have a problem with the candidates running. I avidly supported Chris Higgins in his 2007 bid for County Legislator for Albany County's 6th District. I don't know that much about Dan McCoy other than I know Chris avidly supported him. This in itself wouldn't make me vote blindly, but would factor into my decision. I would have been more likely to go and vote "none of the above," or write a candidate, if the candidates running unopposed were ones that I felt did not represent my values.
The Republicans have been pouring money and effort into races they think they can win, and I cannot argue with that stance. I was a little surprised (and disappointed) that the Green Party was not out and about, but they too have limited resources. I am wholly and completely frustrated with the rest of the "third party" lines in New York (Conservative, Working Families, Independence), who simply choose their favorite from the Big Two choices. These parties have means and a voter base to make a difference at the local level, and they choose not to do it.
I'm still grappling with my decision. I hate the level of voter apathy in this country, although I do understand it and I do sympathize with the frustration. Yesterday, I contributed to that apathy, and though voting for the sake of voting isn't much better, at least those who voted showed up, where I didn't. I took the rights my foremothers fought for and earned for me in 1920 and tossed it in the trash heap.
How do we solve this? It is easy to say that we should encourage more people to run for office, when in reality the solution is not that simple. I think it starts at a much smaller, much more local level. Do we read the local news every day? Have we made an effort to meet our representatives? Do we attend City Council meetings and contribute to the discussion? Do we contact our representatives - at all levels of government - when they're poised to make a decision on something that matters? I don't do as much of this as I should, though I try stay abreast of the issues and to speak up when it matters.
While I can't really blame one person (or one group of people) for the lack of choice in this year's local election, I can and do blame all of us, including myself. Our civic responsibility does not start and end with Election Day. If we want more choices and better candidates, we need to start speaking up and paying attention.
Hi there. Comments have been closed for this item. Still have something to say? Contact us.