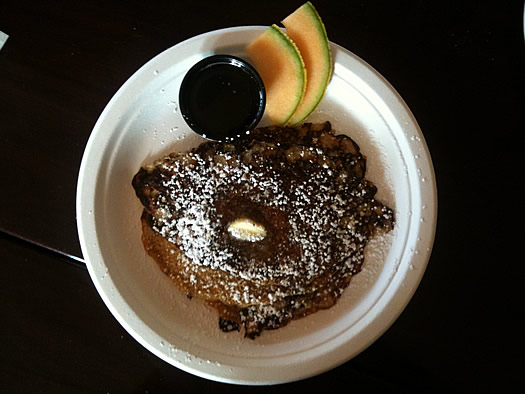 By Daniel B.
Clifton Park is full of secrets. To the outsider, it may seem like a vast wasteland of chain restaurants and suburban sprawl. However, tucked out of sight, just a few minutes west of the Northway in the hamlet of Jonesville is a little restaurant with incredible pancakes. But unless you are a townie, you might not have heard about them.
That is, unless you have happened to stumble upon the comments of a woman who goes by the handle Kerosena. She seems to be on a mission to single-handedly bring these pancakes out of the shadows and into the light of day.
Her tales of these mythical pancakes got me thinking about a trip up to Exit 10. But when I found out they use only real New York maple syrup, I grabbed my keys and was on my way to the Jonesville Store.
As it turns out, their use of local maple syrup was just one of many delightful surprises.
Let me tell you something about buttermilk pancakes. I love them, but I never order them in restaurants. Far too often they are spongy, bland or cool; or even worse a combination of all three. There is little sadder than trying to spread a pat of butter on a stack of pancakes that has died in the window of a diner. Pancakes regularly get relegated to nothing more than a syrup delivery device, rather than something rich, moist and luscious in and of itself.
The success of the version served at the Jonesville Store is that they are going for a different style of pancake entirely. Instead of a light, fluffy and golden pancake, their "traditional New England family recipe" results in a rich, dense and crusty variation.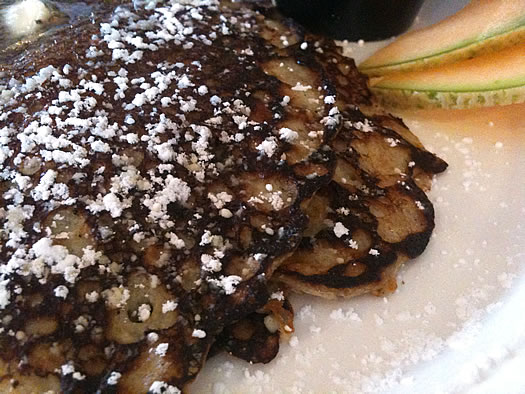 It's thin, with crispy edges, and burnished with a deep brown lattice from the griddle. Its interior is so rich, that I shudder to think about the quantity of butter involved in the batter. But that's a good thing.
A stack of three is dusted with powdered sugar, and crowned with a pat of real butter that quickly melts into the hot pancake and forms a luscious glaze. These need no maple syrup, yet there is a generous dish of the real thing right on the plate. It would be a crime to let it go to waste.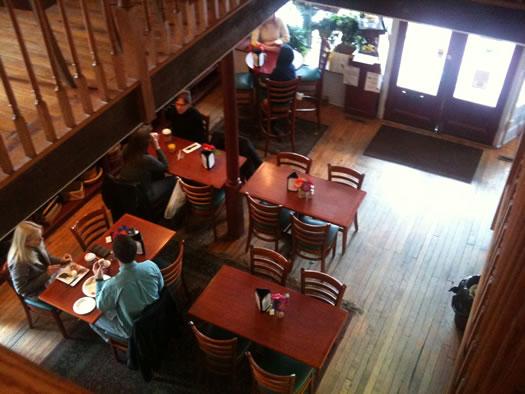 At breakfast time, the Jonesville Store is not a fancy affair. You order at the counter and your food is then brought to your table on solid paper plates. These fantastic pancakes will set you back a mere $5.95.
If paradigm-shifting pancakes weren't enough, there is even more to love.
The motto of the establishment is "Eat Good Food" and they take pains to use local ingredients beyond maple syrup, including Battenkill Valley milk and Anna Mae's Home Made Jams, and even use produce they grow themselves during the season. There is also a dedicated display case filled with desserts from The Chocolate Mill.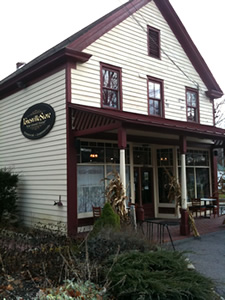 Given the quality of the ingredients and the skill of the kitchen, the Jonesville Store is an amazing breakfast value. Two eggs and good toast with real butter and locally-made jam are a mere $3.50. Add well-seasoned, tender and crisped home fries for $2.25 more.
I can understand why the locals want to keep this place under wraps.
All the same, everyone there is exceedingly friendly, and seems legitimately happy to be there. As well they should be. The Jonesville Store is a gem, and is an argument-ending retort when Clifton Parkers stand accused of living in a culinary desert populated only by chain restaurants. If I lived closer, I would be there all the time.
Breakfast is served starting at 8am; Tuesday through Friday until 11am, Saturday until 4pm, and Sunday until 2pm. The Jonesville Store is closed on Monday.
Daniel B is the proprietor of the Fussy Little Blog.
Earlier on AOA: Raspberry oatmeal pancakes at Cafe Madison
Find It
The Jonesville Store
989 Main St
Clifton Park, NY 12065
Hi there. Comments have been closed for this item. Still have something to say? Contact us.