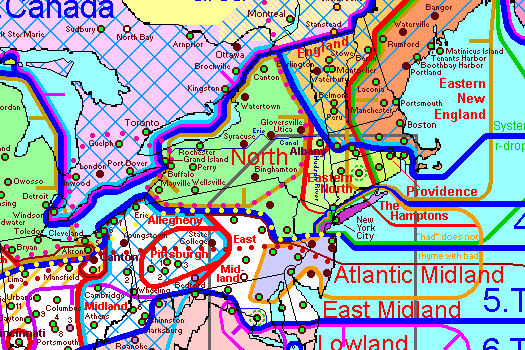 @ajw93 pointed out an interesting site: it's a dialect map of North America. According to this map -- compiled by a linguist named Rick Aschmann -- there's an Albany dialect of American English. A few of the things that characterize this dialect:
+ "Fronted" (tongue near the front of the mouth) vowels in words such as "lot" and "cot."
+ Very little fronting of the vowel in "far."
+ The vowel in "caught" is strongly raised.
+ And these words sound the same: "hoarse" and "horse" | "mourning" and "morning" | "four" and "for."
We've never really noticed a strong "Albany" accent. But if there is one, it's definitely different from other parts of upstate. For example, some people in Central New York have relatively strong accents -- words such as "fire" are pronounced "feuer," and there's the ele-men-TARY pronunciation that occasionally pops up here, too. And, of course, there's the soda/pop divide.
It turns out there's a difference between dialects and accents -- accents are subsets of dialects. And the dialect spoken in Albany and along the Hudson is called, appropriately, Hudson Valley English -- and was influenced by Dutch. Some of the influences from Dutch are still obvious: words such as "kill" (for a creek) and "hook" (for a land point, example: Newton Hook in Columbia County). [Wikipedia] [Wikipedia] [HL Mencken's The American Language]
By the way: The example of the Albany dialect on the Aschmann site is a video clip of Jerry Jennings. Babe.
map: North American English Dialects, Based on Pronunciation Patterns
Hi there. Comments have been closed for this item. Still have something to say? Contact us.