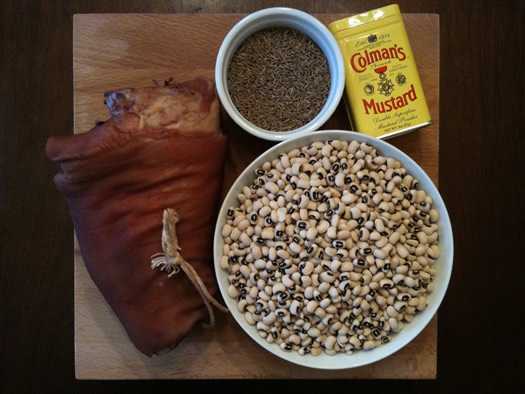 By Daniel B.
Growing up in Miami there was a well-worn gripe about the weather, "It's not the heat, it's the humidity."
For me the challenge of making it through an Albany winter isn't the cold, it's the dryness.
Cold is easy to combat. Sweaters, heavy wool socks, hats, gloves, jackets, and scarves work well. I just got my first balaclava. But when the temperature dips, instead of turning up the thermostat that just further dries the air, I like to grab my bean pot and simmer a mass quantity of legumes for hours.
Not only does it fill the house with wonderful smells, the long process of simmering liquid on the stove is a great way of replenishing the moisture in the air. And when the beans are done, they are delicious -- and warm you from the inside as well.
Legumes are some of my favorite foods, and they are enjoyed all over the world in a variety of forms. They can be fiery, sweet, pungent, earthy, tart, savory, meaty, creamy or crunchy. They can be the basis of a meal, a side dish, or a topping. Today, I'm sharing three relatively easy bean preparations that reflect this diversity. If you can boil water, and cut up an onion, you should be able to make these.
Now let me take you on a trip to India, Cuba and then back home to the American South.
Chana Masala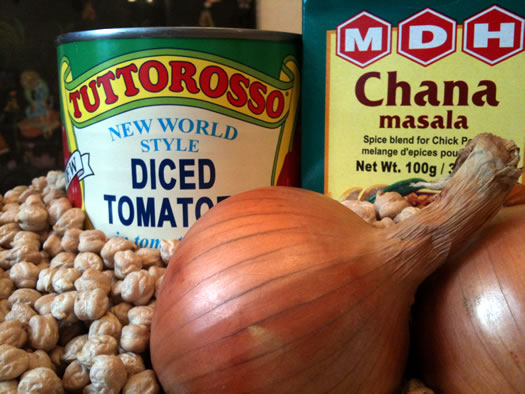 Tackling Indian food can lead you down a pretty deep rabbit hole. The dishes are layered with an amazing kaleidoscope of spices, most of which the average cook doesn't keep on hand. Then there are the legumes themselves. Even the humble chickpea exists in multiple varieties and forms.
But there is an easy way to make amazingly delicious chana masala without a lot of fuss.
The secret is discovering authentic spice blends, and then simply following the instructions on the box. I kid you not.
The good folks at Kashmir Market helped me find the MDH brand of spice blends, and it's widely available at many of our local South Asian grocery stores.
To save you time, and energy, I've worked out the proportions to use an entire box of the spice blend, with two pounds of dried chickpeas. It makes an incredible amount of food, but all of these bean dishes freeze and reheat well. So put some away, and pull it out for a quick and delicious weeknight dinner.
Ingredients
2 lbs of dried chickpeas
2 large onions, diced
enough canola oil to saute the onions
1.5 Tb of salt
28 oz of diced canned tomatoes
1 box of MDH chana masala spice mix
2 teaspoons of baking soda
You will need two pretty big stockpots.
Take 2 lbs of dried chickpeas, pick them over, rinse them, cover with three inches of water, and soak overnight.
Drain and re-cover with water. Bring water to a boil then reduce to a simmer for about an hour until beans are al dente.
While beans are cooking, sauté in the second pot two large diced onions in plenty of canola oil and 1.5T of salt. Mrs. Fussy hates onions, so I turn down the heat and sweat them for as long as possible.
Drain the beans, and have them ready.
Strain a 28 oz. can of diced tomatoes and have them ready.
Dump the spice mix into the onions and stir over medium-high heat for a minute.
Dump the diced tomatoes into the spice mix and stir for another minute.
Dump in the beans, and stir to distribute the spice-onion mixture throughout.
Cover with cold water by about an inch, add 2 rounded teaspoons of baking soda (oddly), bring to boil and reduce to simmer.
Simmer uncovered for about 40 minutes until water is reduced to a thick gravy and the beans are tender (adding more water if needed).
Once you make this at home, and realize how easily you can produce a massive amount of delicious food for a measly $6, it may be difficult to order one portion of this dish at an Indian restaurant.
Cuban black beans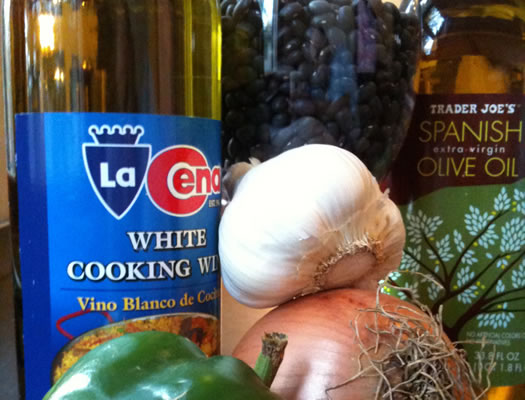 My black bean recipe comes from one of my best friend's Cuban step-grandmother.
In Cuba people eat these every day. There it is largely because of economic necessity. Part of the secret to these intensely flavored beans is to soak them with diced green pepper overnight, and then to cook them in their soaking liquid.
You will need one specialty ingredient, and that is the appropriate cooking wine. But it's readily available in the Latin section of the Westgate Price Chopper, and elsewhere. The supermarket can sell it because it's salted, and nobody in their right mind would drink it.
These beans actually require a shocking amount of extra-virgin olive oil. Which is probably the most costly ingredient in the pot. Unless of course you decide to use organic green bell peppers, which might not be the worst idea. But even still, this is an inexpensive dish that makes a massive amount of delicious food that can easily be a meal unto itself, with rice and some fried plantains on the side.
Ingredients
2 lbs dried black beans, picked over
16 cups of water (1 gallon)
4 green peppers, seeded and chopped
2 large onions, chopped
10 garlic cloves, chopped
1 + 4 Tb cup olive oil
4 Tb salt
1 Tb pepper
2 bay leaves
2 Tb sugar
2 Tb white vinegar
4 Tb dry white "cooking wine"
[Note: This is the only recipe in which I use "cooking wine" and I look for a Spanish brand such as Goya. It is important to underscore that this "cooking wine" is different than a wine you would use for cooking. The "cooking wine" referenced here is actually salted, yes salted, and sold in Latin markets. The beans actually need the additional salt from the cooking wine. Deviate from these instructions at your peril.]
Day one
Get a big big pot.
Take 2 lbs of dried black beans, picked over just in case a small pebble wandered in.
Measure 16 cups of water and pour into the pot with the beans.
Take 2 green peppers, remove their seeds (personally I like to peel them too), chop and add to the water.
Cover the pot and let it sit overnight.
Day two
Grab a large sauté pan.
DO NOT DRAIN THE BEANS.
Take the pot of beans and boil for about 45 minutes or until they are soft.
Chop 2 large onions, 10 garlic cloves and 2 additional green peppers.
Put 1 cup of olive oil into sauté pan.
Sauté the vegetables with 2T of salt in the oil over medium/high heat until tender.
Remove one cup of beans from the pot and mash them.
Add the mashed beans to the vegetables and sauté further, until melded.
Put the vegetable and bean mixture back in the bean pot.
Add additional 2t of salt, 1t pepper, ½t oregano, 2 bay leaves, 2T sugar to pot.
Bring to a lively simmer, and simmer for an hour.
Add 2T plain white vinegar and 4T dry white "cooking wine".
Simmer on low until reduced to your desired thickness.
Finish the beans by mixing in an additional 4T of olive oil. It gives the beans a glossy finish and silky texture.
Black-eyed peas
It just so happens the first two recipes are vegan. But coming back to America we bring the meat. Here we know that beans go famously with pork. Luckily, Albany has Rolf's Pork Store, and his hocks are fantastic. If I'm feeling like an especially meaty version of this dish, I'll supplement with some smoked pork chop ends.
Speaking of luck, black eyed peas are supposed to bring prosperity in the new year. So now is the time to start working on perfecting this dish, so you can bust it out on New Year's Day.
http://asoutherngrace.blogspot.com/2010/01/rest-is-just-gravy.html
This recipe is adapted from one at A Southern Grace. Grace writes a food blog that is generally dedicated to the sweet and rich, so when she breaks form for something classic and savory, I perk up and take notice.
These beans are full of earth and smoke. I omitted the fresh cilantro from Grace's recipe, as the ingredient is a non-starter in my household. Instead I tossed a little dried parsley in at the end of cooking to add a little color, and then opted to brighten up this hearty dish with a vinegary hot pepper sauce. It really demands Crystal.
But like Grace, I spooned these over toast for a surprisingly satisfying and delicious winter dinner.
Ingredients
2 cups dried black-eyed peas
5 cups water or broth
1 ham hock
2 teaspoons cumin
2 teaspoons dry mustard
salt and pepper, to taste
2 tb dried parsley
a vinegar-based hot sauce, to taste
Cover the black-eyed peas with water in a large pot. Bring to a boil. After 3 minutes, remove from heat. Cover and let sit for 1 hour.
Drain the water from the peas.
Add the water/broth, ham hock, cumin, mustard.
Bring to a boil. Reduce to a simmer and cook -- with the lid on -- for 1 hour. The beans should be tender.
Toss in the parsley, stir.
Finish with the hot sauce to taste.
Brown rice
And just because beans go great with rice, before I go, I'll share this fantastic technique for making perfect brown rice. In the summer I make it in the oven, but when the air in the house is dry, nothing beats doing them on the stovetop like this.
Ingredients
Brown rice
gigantic pot of unsalted water
Rinse the rice
Boil in the water for 30 minutes, just like you'd cook pasta
Strain the rice
Let the rice steam in pot, off heat, for 10 minutes
Done.
These three dishes are just the tip of the iceberg. This winter I plan to be full of beans.

For easy recipe printing: Here's a printer-friendly pdf of the three recipes.
And if you're a smartphone/tablet in the kitchen kind of person, scanning the QR code on the right will take you to the pdf.
Daniel B. is the proprietor of the Fussy Little Blog.
Owning Winter:
+ Winter stuff for your car, your house, and you
Hi there. Comments have been closed for this item. Still have something to say? Contact us.