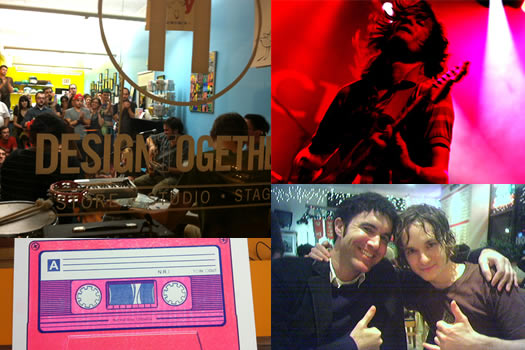 By Emily Rippe
Ben Karis-Nix is a master at D.I.Y.
You might remember him as the singer/guitarist from the Albany-based power pop band The Orange from the early '00s. Or perhaps you recognize him as the former co-frontman of the rock group Jupiter Sunrise, which hit its stride in 2005 when it became the MySpace house band, touring the nation on the Warped Tour. Or maybe you know him from the music produced under his own name.
I was introduced to him as the "t-shirt guy" with a really adorable baby in Troy, where he's building another creative stage in his life.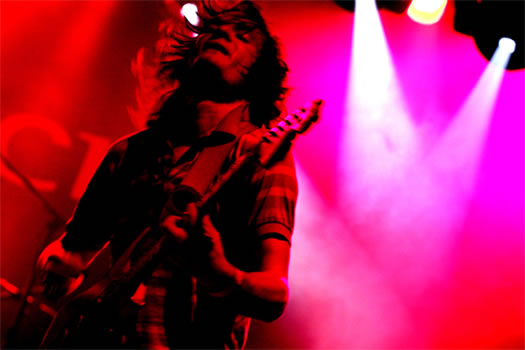 Ben's musical journey began around the age of 16 when he learned to play guitar. Creating "spacey, guitar-and-beat driven indie-pop," he recalls three pivotal musical encounters:
1. Hearing Michael Jackson's "Beat It" while a fellow first grader blasted it during recess from his boombox.
2. Purchasing and dubbing a record of sci-fi theme music so he could race around on his bicycle and listen to the old Battlestar Galactica theme music on his Walkman.
3. Becoming totally entranced by the music of Nirvana, Weezer and the Flaming Lips, and performing similar music in his post-high school bands Upholstry (intentionally spelled incorrectly), The Orange, and Jupiter Sunrise.
LA and around the world
It was 2002 and Ben was living in San Bernadino, California, playing music with a group of New York transplants who called themselves Jupiter Sunrise. Working for a brief time (one week) in a jeans factory, he realized they could probably make more money by selling demo CDs to kids at the local malls. With a few sets of headphones and a messenger bag full of CDs, they built their first fanbase, and played to a crowd of 100+ admirers at their inaugural show.


Jupiter Sunrise
The following five or six years were spent in an RV, living in nomadic fashion. Jupiter Sunrise's reputation steadily grew as a hardworking, self-made indie-pop band with a solid record. It took its full shape when they recruited keyboardist/songwriter Amanda Rogers to the lineup. Their big break didn't come from a label, but from a show they played at the Hotel Café in LA, where Tom Anderson of MySpace was in the audience. Ultimately, they became the MySpace's house band for its stage on the Warped Tour. Jupiter Sunrise gained international success through the site -- which took the band to the next level, but eventually also led to its demise.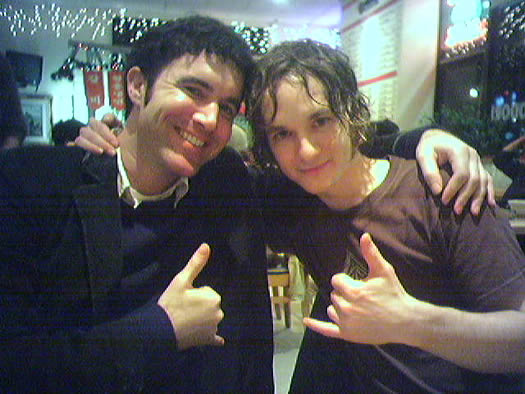 Ben with MySpace founder Tom Anderson.
"We never got the band to a sustainable point, but many of the hallmarks of the rock-and-roll dream were realized," Ben says. "We had our music on a few TV shows, kids tatooed our lyrics on their bodies. I always wanted to be on NPR, so that was cool. But in other ways, I'm just glad I survived the experience. The Jupiter Sunrise ride had so many extreme ups and downs that afterwards it took me two or three years to totally normalize."
Back to the Capital Region
But the passion for music and art never ceased once Ben came back to the Capital Region to regroup. Without a full band to back him up, Ben dabbled in electronica, playing mono synthesizer keyboards and composing tunes on his computer. He even experimented with nature's soundtrack, and recorded noise from insects, birds, frogs, and the woods near his home, pitch-shifting them into melodies. That work ended up on his We Are Giants Now EP, that he produced under his own name. Ben now performs using the name BenKN and he's working a new project that interweaves original music with graphic art and animation.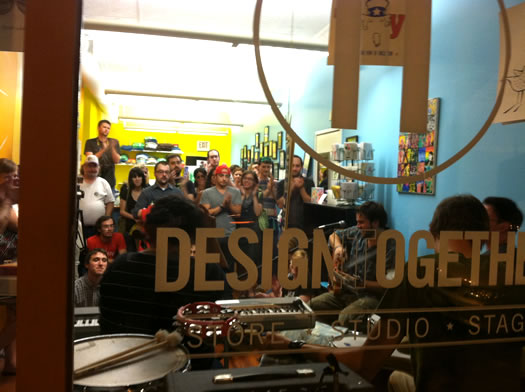 Sea of Trees playing a recent show at Design It Together.
Today, Ben co-runs a design studio and storefront with his friend and business partner, Taylor Gillis. Located in the Market Block building in Troy, Design It Together specializes in web, logo and print design, illustration, silkscreen prints, t-shirt design, and risograph posters and cards. It's a sister company to Amanda Roger's promotional company, Do It Together Records.
"Having the store is an awesome way to channel artistic energy for visual art into something that I can use to support my family, integrate us into the community, and give us a platform to launch personal projects on into the future," Ben says.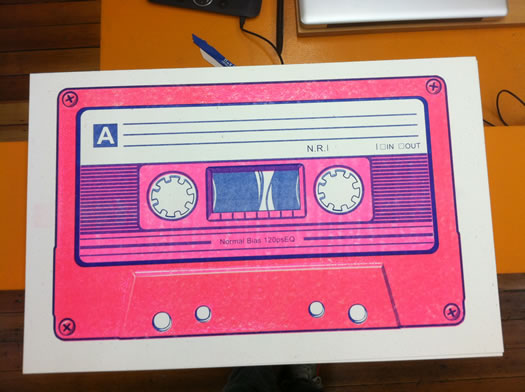 Design It Together's work includes album art for singer/songwriter Kyle Carey, poster art for the Riverlink Park Concert Series, and business cards and websites for several local agencies. Ben says they also have a lot of fun designing their own risograph prints (a Japanese mimeograph intended for energy-efficient document printing), like Ben's latest mixtape "I Love You" card, inspired by cheesy monster ballads.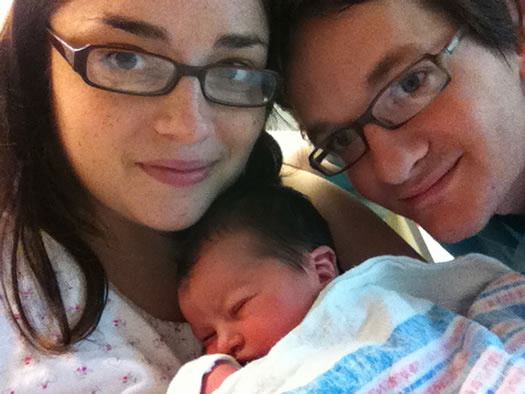 But nothing is more D.I.Y. then raising your own family. Of all his creations and collaborations, Ben and his wife Olivia say they are truly inspired by their five-and-a-half-month-old baby, Noah. He's provided Ben with a greater sense of balance and life's purpose.
"It's a childlike feeling of awe and excitement, like when I was 10 and riding my bike at full speed listening to those sci-fi soundtracks. Whenever I need a boost of that feeling, all I have to do is pick him up and feel his little hands grabbing my clothes and hair."
photos courtesy of Ben Karis-Nix
Find It
Design It Together
286 River Street
Troy, NY 12180
Say Something!
We'd really like you to take part in the conversation here at All Over Albany. But we do have a few rules here. Don't worry, they're easy. The first: be kind. The second: treat everyone else with the same respect you'd like to see in return. Cool? Great, post away. Comments are moderated so it might take a little while for your comment to show up. Thanks for being patient.