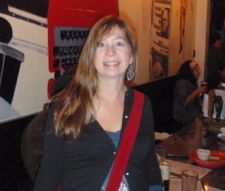 It's Monday, time for another My Exit. Here's tonight's guest DJ, who will be sharing her favorite music at 8 pm on WEXT.
Here's a taste of the mix she's got planned:

Who?
Susan Fowler.
I live in Albany with my husband and 2 dogs, Oscar and Mini. I have been an elementary school teacher in Albany for the past 15 years. I work with many refugees and children of diverse backgrounds. I am also the coordinator of The Friendship Garden on Hurlbut Street in Albany's Delaware Ave. neighborhood. It is an "edible" garden where children learn to plant, grow and prepare delicious organic veggies.
How would you describe your taste in music?
My musical taste changes frequently. It's a mood thing with me! Right now I'm listening to old jazz like Thelonious Monk and Miles Davis. I also appreciate world music and recently discovered Bassekou Kouyate & Ngoni Ba from Mali. I'll never tire of Joni Mitchell or Leonard Cohen either. As far as newer music, I like The Decemberists, Ray LaMontagne, and Mumford and Sons.
A few songs from Susan's My Exit:
"Shopping for a dog" -- Fear of Strangers
A great song from a great local band in the early 80s. This song is a time when everyone went out to 288 Lark St. or The Chateau Lounge and danced our butts off 'till all hours of the night! Oh to be young again!
"Laid" -- James
My husband Mark, who is from England, turned me on to this English group. We fell in love to this song dancing around a bonfire!
"Trouble Me" -- 10,000 Maniacs
I will always associate this song with my two adult children, Jess and Oliver. It's about being there when you are needed.
"A boy named Sue" -- Johnny Cash
My Dad was a huge Cash fan. He loved to sing this song to me when I was young.
"Show me the way" -- Peter Frampton
Peter Frampton was the heartbreaker of the late 70s. While I was in high school in Hawaii, my friends and I attended a few of his concerts. We were totally in love with this guy!
You can hear Susan's My Exit show tonight at 8 on 97.7 or at exit977.org.
Here's how to schedule your own My Exit show on WEXT.
Hi there. Comments have been closed for this item. Still have something to say? Contact us.