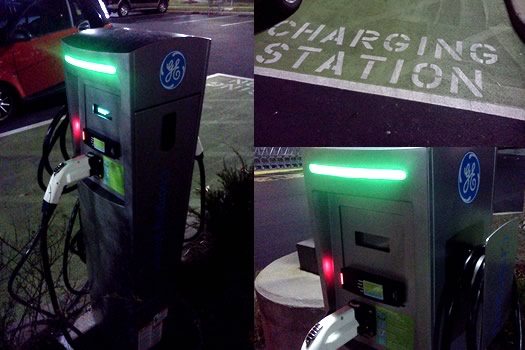 Kristofer spotted this electric vehicle charging station at the new ShopRite in Niskayuna. There are four spots in supermarket's parking lot designated for electric vehicles. Apparently Niskayuna town officials requested that ShopRite include the spots as part of its design for the store. [Spotlight]
The ShopRite charger brings the number of EV charging spots in the Capital Region to five, according to Dan Gibson at Our Energy Independence Community. In addition to ShopRite, there are stations at the Holiday Inn Express in downtown Albany, NYSERDA in Guilderland, the Saratoga Technology and Energy Park in Malta, and the HVCC Tec-Smart facility also in Malta.
Here's the thing, though: there are extraordinarily few electric cars on the road. The two currently for sale -- the Chevy Volt and Nissan Leaf -- are new on the market, and the technology -- especially for batteries -- could use some improvement. Most people probably aren't going to be keen to drive a car with a range of at most 100 miles in ideal conditions -- and much less in normal conditions. (To clarify: the Volt also has a gasoline engine, which can kick in after the batteries run out.) [NPR] [USA Today]
It's interesting/fitting that Niskayuna has an EV charging station made by GE, in an everything-new-is-old kind of way. Ace GE scientist Charles Steinmetz had an electric car all the way back in 1914. He used to drive it to his weekend home.
The Edison Exploratorium in Schenectady still has Steinmetz's electric car. There's video of it embedded after the jump.
(Thanks, Kristofer!)
Find It
ShopRite Niskayuna
2341 Nott St E
Niskayuna, NY 12309
Hi there. Comments have been closed for this item. Still have something to say? Contact us.