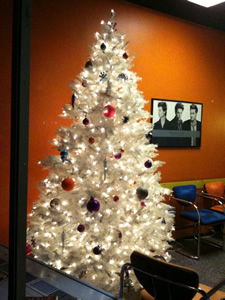 A bunch of holiday bits from the Siena survey out today:
+ 67 percent of people said they are excited about the holiday season; 32 percent said they're not.
+ 34 percent of people said they're cutting back their holiday spending this year compared to last (37 percent said they were last year). Seven percent said they're increasing (compared to 4 percent last year).
+ 23 percent of people said their financial situation is better compared to last year; 30 percent said it's worse.
+ 26 percent said they plan to spend $1,000+ on gifts.
+ 19 percent of people said they shop on the day after Thanksgiving.
+ 57 percent said they planned to do at least some online shopping -- and of those people, 30 percent said it was because of crowds.
+ 59 percent said they try to buy gifts from locally-owned and operated businesses.
+ 77 percent said they would be making a charitable contribution this season; 30 percent said they'd be volunteering.
+ What people enjoy most about the holidays: 77 percent said spending time with family and friends. What people enjoy the least: 39 percent said the commercialization of the holidays. (Takeaway: your family and friends would probably rather you make time for them than buy them a gift.)
+ 63 percent said they think the holiday decorations and ads start too soon.
+ Most often used greeting: Merry Christmas (53 percent), Happy Holidays (37 percent).
+ "I hate to admit it but at this point I'm more Scrooge than Santa." Agree/disagree: 23/67.
+ Among people who put up a Christmas tree, 59 percent say they go artificial.
+ "Would you say you believe in Santa Claus or not?"" Believe: 30 percent. Do not believe: 69 percent.
Margin of error +/- 3.9.
Hi there. Comments have been closed for this item. Still have something to say? Contact us.